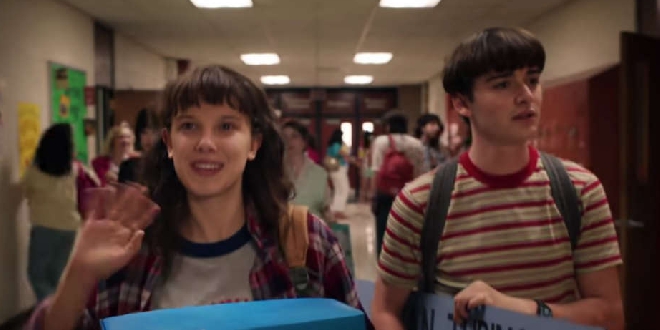 uʍop ǝpᴉsdn ǝɥʇ uᴉ llɐ,ʎ ǝǝs
Ok - so we finally have the last installment of the 001/004 trailers for Stranger Things Season 4.
Just to recap - we had the first trailer #001/004 way back in February 2020, titled 'From Russia with Love', where we found out that our favourite character, Chief Hopper (David Harbour) was still alive.

Then, when Covid got in the way, filming on the hit series halted and we didn't receive trailer #002/004 until over a year later in March 2021.
This one was titled, "Eleven, are you listening?" which gave us flashbacks into Eleven's time at Hawkin's Lab before she escaped.

Then Netflix dropped #003/004 in September 2021, in a trailer titled 'Creel House', which turned back the clock to what appeared to be a happy family living in the 1960s... before strange phenomenon drove them to insanity... then a flash forward to the 80s with our fave Hawkin's gang entering the abandoned house.

And now we have the final trailer #004/004 titled "Welcome to California".
In the teaser, we learn that it's been 185 days – or a little over six months – since the events of the third season, which ended with Eleven and her adopted family leaving Hawkins, Indiana. Elle is writing to Mike, and counting down the days until she gets to return to Hawkins for Summer break.
It also appears that when she gets back, the saga and drama continue.
Whew!! We also found out that Season 4 is out summer of 2022 (which means July next year)!!
The original cast are all back including Winona Ryder, David Harbour, Finn Wolfhard, Millie Bobby Brown, Gaten Matarazzo, Caleb McLaughlin, Noah Schnapp, Sadie Sink, Natalia Dyer, Charlie Heaton, Joe Keery, Maya Hawke, and Cara Buono.
Netflix also revealed eight new cast members including Jamie Campbell Bower ("Sweeney Todd"), Eduardo Franco ("Booksmart") and Joseph Quinn ("Catherine the Great").
AND we have been given the titles of all 9 episodes including... 'Hellfire Club', 'Vecna's Curse', 'The Monster and the Superhero', 'Dear Billy', "The Massacre at Hawkins Lab' and 'Papa' - giving us a small insight into what we may be in for.
Stranger Things Season 4 is out July 2022... and we cannot wait!!
And here is a cool post of some of the main cast getting into character!! Bring on July, 2022!
Source: YouTube/Instagram/StrangerThings