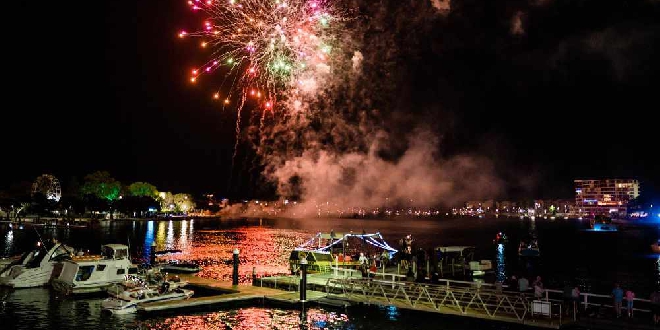 PIC: Mandurah New Year's Eve fireworks
The City of Mandurah have had to make a few changes to their events lineup over the festive season to comply with COVID-19 restrictions still in place.
The State Government recently announced Phase Four rules would be extended beyond the October 24 end date, meaning the City has had to get creative in it's delivery of summer activities for the community.
Changes have had to be made to the Mandurah Street Party and the Mandurah Christmas Pageant with the New Year's Eve fireworks still penciled in to go ahead.
Mayor Rhys Williams said even though things may not be the norm this year, there are still plenty of ways that people can celebrate and enjoy this special time of year.
"The Mandurah Street Party that we hoped to hold next month will need to be postponed to a later date and instead of holding the Christmas Pageant this year we're building on our 'Mandurah as the Capital of Christmas' theme with month-long Christmas festivities and an exciting Christmas Light Trail," he said.
"Our New Year's Eve fireworks celebrations will still be held this year, but will include some change to adhere to a COVID-friendly format."
On New Year's Eve, there will be fireworks displays at 9pm and midnight, however congregation points such at stages have been removed and attendees will be asked to use the multiple vantage points across the City to ensure the event can be delivered safely for all to enjoy.
"Mandurah has such an amazing festive spirit and vibe, so I'd encourage everyone to get out with their family and fiends to enjoy a bigger and better Christmas Light Trail along the foreshore and through the City Centre, take part in the iconic Christmas Lights canal cruises and support local businesses." Mayor Williams said.
The City also plan to put on other mid-week and weekend activations to extend the festive season in the hopes it will achieve similar economic outcomes for local businesses.