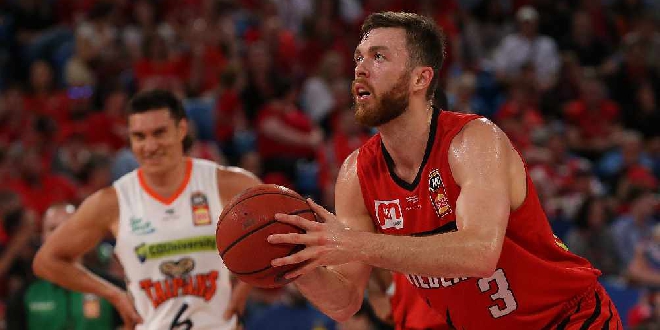 PIC: Cairns Taipans/Twitter
The Perth Wildcats suffered a disappointing loss to the Cairns Taipans at home on Friday night.
The Wildcats fell 76-99, resulting in their worst loss at RAC Arena.
Perth were up by as much as seven points during the second quarter, but couldn't maintain a lead with the hot-shooting from Cairns in the second half.
Nick Kay and Terrico White both finished with 15 points.
Damian Martin had six assists and six rebounds, while Dario Hunt's eight points and eight rebounds came in limited minutes after getting into foul trouble.
Wildcats coach Trevor Gleeson said the Taipans performed well, but explained his side needed to do some work.
"It was really disappointing tonight, it was just the application, anytime you get out-worked on your home court by the opposition is very disappointing. That's not the Wildcats brand we've built up over the last five or six years," he said.
"We certainly went individual, and didn't stick together tight as a unit. Defence has been our backbone and they were scoring at will."
Captain Damian Martin said his teammates won't sleep well after the disappointing result.
"I don't question anyone's character on the team or willingness to do whatever it takes to win, but in the first half we were giving them two and three looks, and they started to get their eye in in the second half," said Martin.
"Ball movement in the second half; ours was one pass and a shot, and they weren't dropping for whatever reason, while they were going down the other end and moving the ball well.
"They taught us a lesson that if you play with intensity and discipline, good things can happen."
Despite Perth putting up 18 more shots than Cairns, they only managed to shoot at 32 per cent.
The Wildcats now travel east to play off against Melbourne United on Sunday, with tip-off at 2pm Western Australian time.