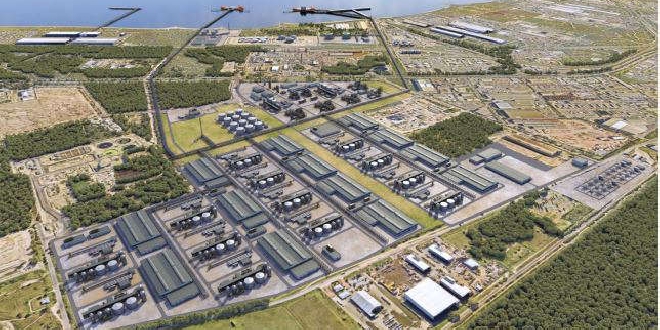 H2Perth Conceptual image. PIC: Woodside
Kwinana will be home to one of the largest clean energy production facilities in the world.
On Monday, Woodside unveiled plans to establish a global-scale hydrogen and ammonia production facility
The first phase of the facility, dubbed H2Perth, will include more than $1 billion in capital expenditure.
H2Perth will be built on around 130 hectares of industrial land commercially leased from the WA Government in DevelopmentWA's Kwinana and Rockingham Strategic Industrial areas, subject to all necessary approvals.
Construction is expected to create more than 2000 jobs and once operational, the facility will support around 200 ongoing local jobs.
Premier Mark McGowan said H2Perth will supply lower cost hydrogen to domestic markets and will directly contribute to WA's renewable energy future.
"The H2Perth facility is a great example of the type of renewable energy projects we want to bring to Western Australia," Mr McGowan said.
"Woodside will fully fund the construction and operation of this project to create one of the world's largest clean energy production facilities."
Meanwhile, Conservation Council of WA has hit out at the plans saying the facility is not a renewable energy project.
"This development has made for a good headline but the devil is in the detail, and on closer inspection it appears to be yet another way for Woodside to greenwash its highly polluting fossil gas expansion plans," Conservation Council of WA Policy and Legal Director Piers Verstegen said.
"The Kwinana plant would be producing hydrogen using fossil gas – often referred to by the ambiguous term 'Blue Hydrogen'.
"This is a very carbon intensive process and unlike genuinely renewable 'Green Hydrogen', it actually depends on more fossil fuels and risks even more pollution.
"We would always welcome resource companies moving into renewable energy and green hydrogen in a genuine way, but this project appears to be yet another greenwashing exercise for Woodside."