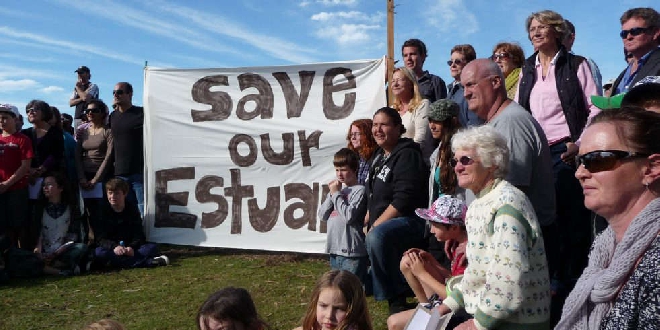 400 protesters rallied at the Dawesville Foreshore against the Point Grey Channel in July 2012. PIC: Peel-Harvey Catchment Council
The State Government has approved an amendment to a local planning scheme which will stop a controversial marina development at Point Grey, on the Peel-Harvey Estuary from going ahead.
There was plans to construct a 330-berth marina at Point Grey which would also see the dredging of a 2.5km navigation channel across the estuary.
For over a decade, local councils, politicians and environmental organisations rallied against the proposal, citing potential long-term environmental impacts, and uncertainty about ongoing maintenance and upkeep.
On Thursday, Planning Minister Rita Saffioti approved the amendment, put forward by the Shire of Murray, after receiving overwhelming support from the local community.
"I am pleased to approve this amendment ending an extended period of planning uncertainty," Ms Saffioti said.
"This amendment follows the recommendation made by the WA Planning Commission.
"The decision ensures any development is suited to the environment and is viable for the long term."
Mandurah MLA David Templeman said it was a long time coming.
"I have been fighting against this marina for many years and I am so pleased to see the end of this project," Mr Templeman said.
"Thank you to everyone who stood up against this proposal - we did it!"
Peel-Harvey Catchment Council Chair Caroline Knight said the David and Goliath battle is over.
"The Peel-Harvey Catchment Council are thrilled with the Minister's announcement to support the Scheme Amendment to remove the Point Grey Marina and Channel." Ms Knight said.
"The Minister's decision cannot be appealed, so we can finally rest easy that this threat has been put to bed."
Canning MP Andrew Hastie has backed the decision following his petition to oppose the Point Grey dredge.
"We care about our environment—it's our home—and we acted to protect it," Mr Hastie said.
"Congratulations to Shire of Murray President David Bolt and all the other local leaders for their effort to protect our region.
"Thank you to the thousands of locals who signed my petition opposing the dredge, and who spoke up when it counted.
"Together we have stopped the dredge."