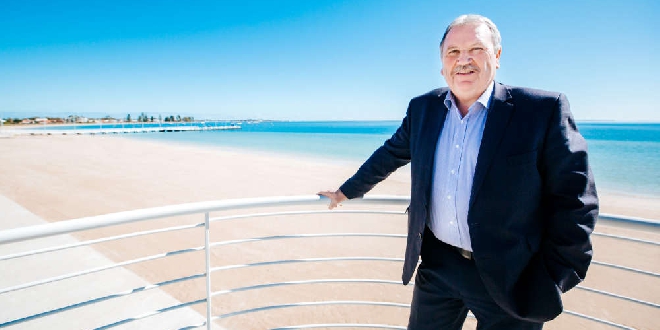 Mayor Barry Sammels has served the community as Mayor for over 18 years. PIC: City of Rockingham.
The City of Rockingham has farewelled departing Mayor Barry Sammels ahead of the 2021 Local Government Elections.
Having decided not to contest the up and coming elections, Mayor Sammels will now be retiring from Council.
Mayor Sammels was first elected as a Councillor in 1997 representing Rockingham Ward.
He was elected Deputy Mayor in 2001 before being elected by his fellow Councillors to the position of Mayor in 2003.
In addition to serving as Mayor for over 18 years, Mayor Sammels has sat on numerous committees and working groups including the City's Planning and Engineering Services Committee, Corporate and Community Development Committee, Global Friendship Committee, Chair of the City Safe Advisory Committee, Chair of the South West Group and served as Chair of the Australian Coastal Councils for a decade.
City of Rockingham Chief Executive Officer Michael Parker thanked Mayor Sammels for his outstanding contribution to the community over a significant period.
"Mayor Sammels has served the community for nearly 25 years and in that time the City has grown from about 58,000 people to become a major strategic metropolitan centre that is home to approximately 140,000 residents," Mr Parker said.
"While working to represent the community, Mayor Sammels has forged many long lasting relationships with key stakeholders at a local, state and federal level.
"Having presided over an unprecedented period of growth in our community's history, the City would like to wholeheartedly thank Mayor Sammels for his commitment as both a councillor and Mayor. His efforts are greatly appreciated and the City wishes him well in his future endeavours."
Mayor Sammels wished to thank the City and community for their support during his time on Council.
"For nearly a quarter of a century I have had the privilege of representing the Rockingham community. In that time I've been fortunate to witness the delivery of many major infrastructure projects and services, as well as seeing the City undergo major population growth."
"I would like to wish the City's next Mayor the very best of luck for the challenges and successes that lie ahead, and hope the community will give them their full support as the City of Rockingham continues its growth as the place where the coast comes to life."