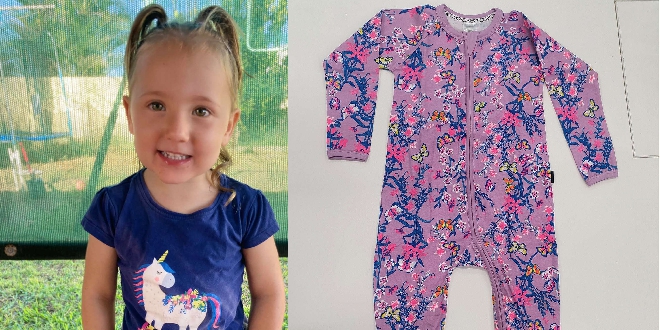 Cleo Smith was last seen wearing a pink/purple onesie. PIC: Facebook and WA Police
Police have revealed a development in the case of missing four-year-old Cleo Smith.
Detectives want to speak to the occupants of a car that was seen turning south off Blowholes Road towards Carnarvon between 3am and 3.30am on October 16, the morning Cleo vanished.
The car was spotted by two witnesses who were travelling together on the North West Coastal Highway.
Detective Superintendent Rod Wilde said the witnesses couldn't give a detailed description of the car but the headlights were definitely on.
"We want the person or persons who were in that vehicle to come forward and contact police," Supt Wilde said.
"They are not a suspect as such, we just want to establish who they were and what they were doing at the time.
"We believe it was a passenger vehicle, not a truck."
Cleo's mother and stepfather woke at 6am on October 16 to find no trace of the little girl.
Her sleeping bag was also missing and the door to the tent was open.
The zipper was too high for the four-year-old to reach leading police to believe she could have been abducted.
An extensive air, sea and land search was carried out for several days around the Blowholes campsite but there was no sign of Cleo.
She has now been missing for 10 days.
Detectives spent the weekend searching the family's Carnarvon home in case she had been stalked before being possibly kidnapped.
But Supt Wilde said they don't believe the possible abduction was pre-planned.
"There's no evidence that Cleo was stalked at all," he said.
Police are now asking anyone with dashcam or CCTV footage within a 1000km radius of the Blowholes campsite, as far south as Lancelin, recorded between 6pm on Friday, October 15 and 6pm on Sunday, October 17 to upload it here.
Detectives are particularly interested in:
Motel check in and communal areas

Service stations

Fast food outlets and bakeries

Truck stops and free camping areas

Children's clothing stores

Pharmacies and cosmetic stores

Camping stores
The State Government is offering a $1 million reward for information leading to Cleo's return.
Anyone with information is urged to call Crime Stoppers on 1800 333 000 or police on 131 444.