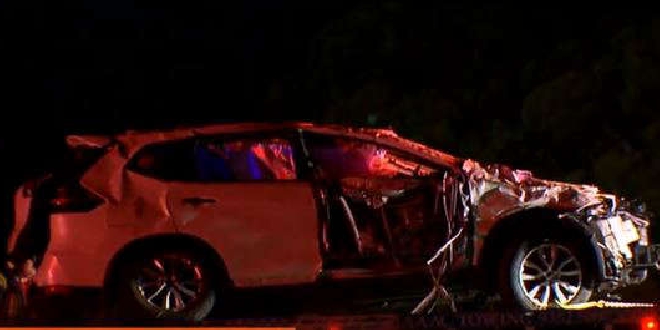 PIC: 7News
A driver has died in a horror crash on the Kwinana Freeway in Nambeelup.
Police say the man, a woman and two young girls were travelling in a white Nissan X-Trail southbound when the car rolled several times before coming to rest on a steel barrier around 6.50pm on Sunday.
The driver, a 34-year-old man died at the scene, while the front passenger, a 27-year-old woman, suffered serious injuries and was airlifted to Royal Perth Hospital.
Two girls, aged five and six, were taken to Perth Children's Hospital with non life-threatening injuries.
Major Crash investigators are appealing for anyone who may have seen the crash to contact Crime Stoppers on 1800 333 000 or report online at crimestopperswa.com.au.
Any dash-cam or mobile phone vision relating to this crash can be uploaded via the following link: https://wapf.au.evidence.com/axon/citizen/public/fatalcrashnambeelup