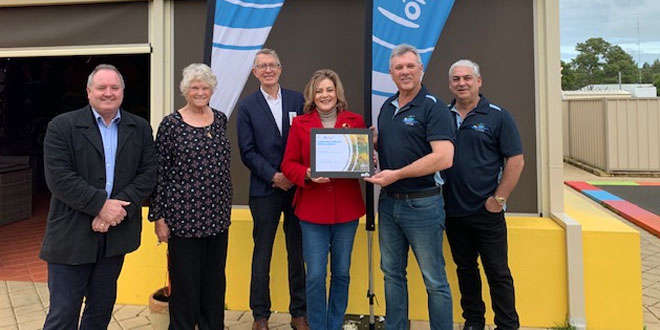 PIC: Supplied Shire of Waroona
The creation of a Community Precinct in the heart of Waroona town centre is another step closer, thanks to a $450,000 grant from Lotterywest.
Councillor Mike Walmsley said the local community has really thrown its support behind this exciting project and is keen to seen Waroona undergo a facelift.
"The Shire has a bold vision for revitalizing Waroona and the community precinct will start to bring the town to life. We are very appreciative of the support from Lotterywest," he said.
The precinct will include a playground, nature play areas, skate park, pump track, outdoor and undercover event spaces, gathering areas for family and community events, and amenities to ensure a welcoming, comfortable and accessible place to enjoy.
The precinct will provide an attractive and vibrant parkland feel that will link the town centre from the South Western Highway to Fouracre Street, which is well-known for its magnificent trees and relaxed country feel.
Shire of Waroona CEO Dean Unsworth said just over $3 million has been secured for the project, with refinement of the overall concept plans now in progress.
"The Lotterywest grant is a substantial contribution to the overall project, which will be a fantastic asset and facility for Waroona locals and visitors alike," he said.
"Waroona is a terrific 'hub in the hinterland' and we are keen to link areas for active and passive recreation and events with RV parking, local businesses and amenities that will be a drawcard for visitors to stop, stay and spend in our town."
Earlier in 2021, the Western Australian government committed $1.3m towards the community precinct and other contributions have been confirmed from the Alcoa Waroona Sustainability Fund, Shire of Waroona, Lions Club of Waroona, and from fundraising efforts of local young people.
The Shire is also seeking federal government support for the precinct and other town centre revitalization initiatives.
Construction is planned to commence in early 2022.