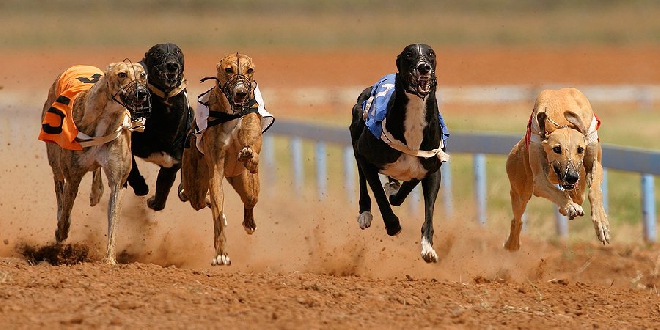 A new report has revealed five greyhounds died and 405 suffered injuries at the Greyhounds WA Mandurah track in 2020.
The report – Lethal Tracks 2020: A report on track-related deaths and injuries – was compiled by the Coalition for the Protection of Greyhounds (CPG) after analysing thousands of official stewards' reports.
Five dogs also died at the Cannington greyhound track and 486 were injured.
Nationally, 202 greyhounds deaths and 10,000 injuries were recorded.
CPG's report found greyhounds are at most danger on curved tracks, in seven or eight-dog races and in the catching pens after a race finishes.
The national data revealed 77 per cent of fatal injuries were sustained at track turns and 83 per cent occurred in races with seven or eight dogs.
The report also found 87 per cent of fatalities involved dogs with fractured legs and resulted in euthanasia.
CPG WA Divisional Manager Andrea Pollard said the dog-racing industry needs to change the way greyhounds are raced or ban it all together.
"Nothing the industry says about animal welfare can be believed until they introduce six-dog races, centralised lures and straight tracks as per the research done by the Uni of Technology-Sydney for the dog-racing industry," she said.

Ms Pollard said both the RSPCA and the Australian Veterinary Association have public policies against greyhound racing.
"It's not surprising given how these dogs die for no other reason than to amuse humans and make some of them money. This report shows the WA industry must do more for animal welfare."
Ms Pollard said Racing and Wagering WA's announcement last September of $1.85m for track upgrades during 2020/21 had resulted in little being done.
"We're already half-way through that period and heard only about plans for an on-site office at Cannington, but zero on track upgrades that could save dog lives," she said.
Ms Pollard said the last WA 2020 track death happened when two-year old greyhound Shock Alert died on the track after race 11 at Cannington on December 16, 2020.
"A post-mortem showed the cause was due to a major vessel rupture resulting in a fatal internal haemorrhage," she said.
"Shock Alert's death shows the brutal reality of greyhound racing and the stress it puts on these poor dogs' bodies. While the racing industry likes to tell us these dogs love to race, they neglect to mention the horrific deaths that can occur as a result," Ms Pollard said.
Racing and Wagering WA (RWWA) said they are committed to providing the best level of care to greyhounds.
"We are entirely transparent with our injury reporting, with this included in both stewards reports as well as our annual report," a RWWA spokesperson said.
"Majority of injuries in WA are of a minor nature, such as mild joint or muscle soreness, but are reported as greyhounds are athletes and subject to a higher level of veterinary assessment than pets.
"Whilst a range of welfare initiatives are already in place, we continue to work with the wider industry to explore initiatives to further improve greyhound welfare in our State.
"RWWA has engaged Professor David Eager from the University of Technology Sydney to conduct a review of WA's three greyhound tracks as part of this continuous effort. The report will assist in identifying track enhancements that may elevate existing standards.
"We are also in the process of assessing injury statistics from other jurisdictions that have trialled six dog fields along with many other factors to determine appropriate field sizes."