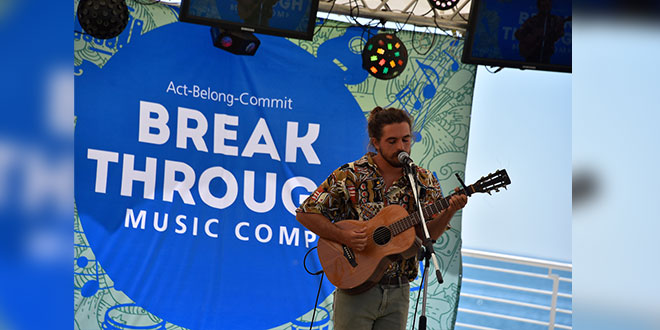 PIC: 2019 Senior Category winner Callum Vincent/City of Rockingham.
The annual Act-Belong-Commit Breakthrough Music Competition registrations are now open and the City of Rockingham is encouraging local young musicians to apply for their chance to win.
The competition provides young people aged 12-24 with an opportunity to showcase their musical talents and also creates a potential pathway for those wanting to develop a career in the music industry.
This years entrants will have the chance to win from a prize pool worth $10,000 which includes a studio recording opportunity, photo shoots and gift vouchers.
The competition will be hosted online for the first time, with all heats and the Breakthrough final to be filmed and recorded at the Take Eight Productions Studios in Rockingham before being broadcasted on YouTube the following day.
City of Rockingham Mayor Barry Sammels said the Breakthrough Music Competition gave young aspiring musicians the opportunity to fast-track their progress in the music industry.
"Since 2012, Breakthrough has given a number of musicians the ability to take their first steps in the professional music industry," he said.
"Talented artists from a variety of musical backgrounds have taken the chance to turn their passion into greater success and the City of Rockingham is encouraging local young people who are keen to forge a career in the musical industry to get involved in the competition."
For more information or to register visit www.take8.com.au/breakthrough or call 9529 2021.