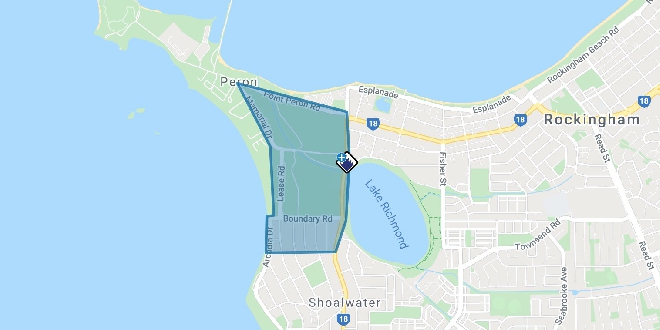 The bushfire has since been downgraded to an advice. PIC: Emergency WA
Authorities say a bushfire that reached an emergency warning in Rockingham overnight was deliberately lit.
The blaze started in the Lake Richmond area, near the intersection of Safety Bay Road and Lake Street, around 1.10am on Monday.
At one point nearby residents were being told to evacuate their homes.
The alert level has since been downgraded to an advice, as the fire is now contained.
There is no threat to lives and homes.
Anyone who saw suspicious activity at the time of the fire or has CCTV of the area is asked to contact Crime Stoppers on 1800 333 000.
LATEST DFES ALERT:
Bushfire ADVICE for western part of ROCKINGHAM in CITY OF ROCKINGHAM
ALERT LEVEL:
A bushfire ADVICE is in place for people in an area bounded by Point Peron Road, Memorial Drive, Lease Road, Arcadia Drive, Liverpool Street and Safety Bay Road in the western part of ROCKINGHAM in CITY OF ROCKINGHAM.
The alert level for this fire has been downgraded as it is now contained.
There is no threat to lives or homes.
Although there is no immediate danger you need to be aware and keep up to date in case the situation changes.
The fire started near the intersection of SAFETY BAY RD and LAKE ST in ROCKINGHAM.
WHAT TO DO:
Stay alert and monitor your surroundings.
Watch for signs of a bushfire, especially smoke and flames.
Close all doors and windows, and turn off evaporative air conditioners but keep water running through the system if possible.
Read through your bushfire survival plan.
If you do not have a plan decide what you will do if the situation gets worse.
If driving
Be extremely careful when driving through the area.
Turn your headlights on and drive slowly.
Watch for emergency services personnel and follow their directions.
BUSHFIRE BEHAVIOUR:
The bushfire is moving in a westerly direction.
It is contained but not controlled.
ROAD CLOSURES AND CONDITIONS:
Avoid the area and be aware of fire and emergency services personnel working on site.
A number of roads have been closed including:
Safety Bay Road
Point Peron Road
Lake Street
Memorial Drive
Motorists are asked to avoid the area, reduce speed and drive carefully due to smoke.
Road information may also be available from Main Roads WA by calling 138 138 or visiting travelmap.mainroads.wa.gov.au or by contacting the CITY OF ROCKINGHAM.
WHAT FIREFIGHTERS ARE DOING:
Firefighters are on the scene, actively fighting the fire.
EXTRA INFORMATION:
The fire was reported at 01:11 AM on 4 January 2021.
The cause of the fire is suspicious/deliberately lit.
People are asked to report any suspicious behaviour to Police Crime Stoppers on 1800 333 000.
DFES is managing the fire.