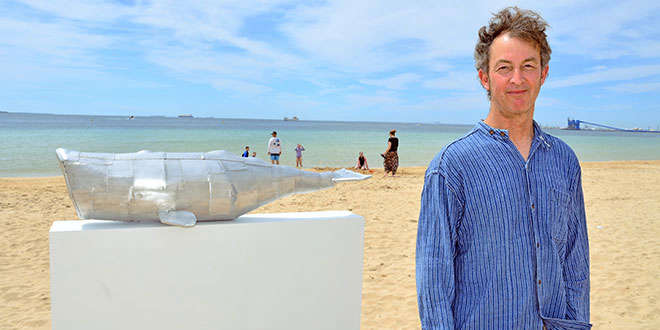 Castaways Alcoa Major Award winner Mark Thompson with his winning entry Whale. Picture: City of Rockingham.
The winners were announced on Saturday at an awards presentation held at Churchill Park on the Rockingham Foreshore.
The City of Rockingham's 2021 Castaways Sculpture Awards officially opened on Saturday 23 October and will run through to Sunday 31 October.
Rockingham born, Bicton-based artist Mark Thompson won the $10,000 Alcoa Major Sculpture Award for recycled sculpture with an aluminium component with his artwork Whale. Thompson's work consists of recycled off-cut aluminium, riveted together to form the shape of a sperm whale, the subject matter inspired by his daughter Clara's love of the species. It was the first time Thompson had entered Castaways.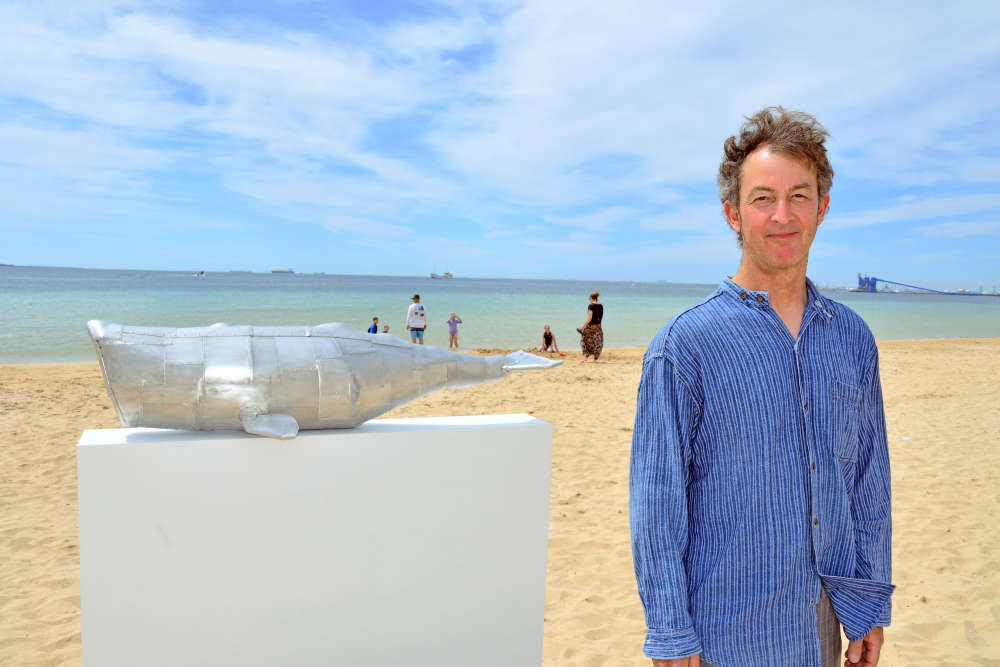 Castaways Alcoa Major Award winner Mark Thompson with his winning entry Whale. Picture: City of Rockingham.
Winner of the $5,000 City of Rockingham Innovation Award for excellence in using recycled materials in an unexpected way was Rag Doll by Roleystone-based artist Jill Smith. The work is a life size figure of a girl, completely covered in recycled fabric and makes a comment about the disparity between fun on the beach, and the devastation on sea life taking place in our oceans.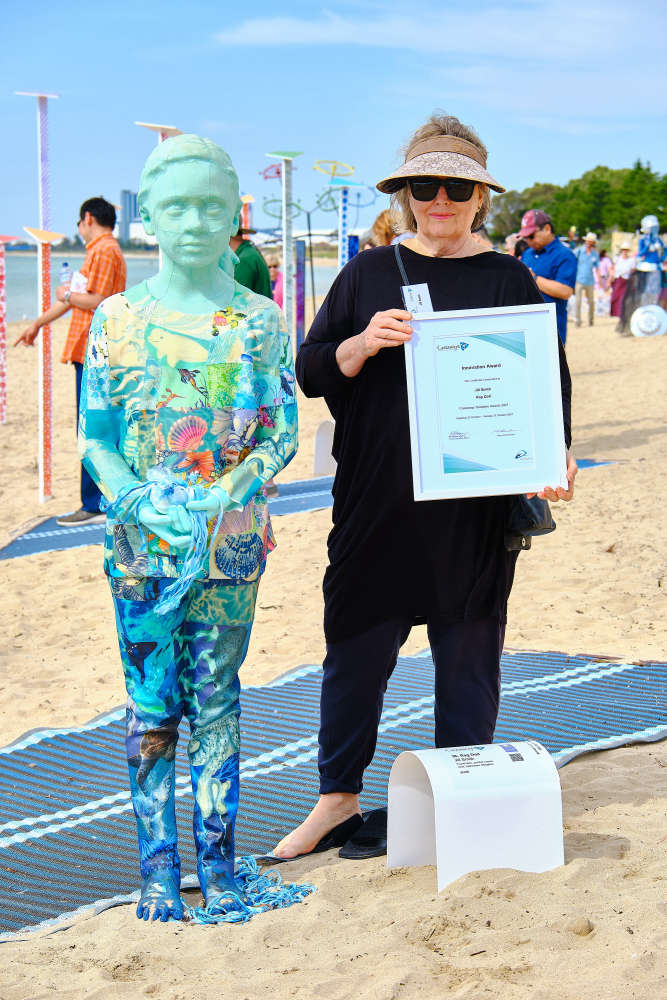 City of Rockingham Innovation Award winner Jill Smith with Rag Doll. Picture: City of Rockingham.
Heloise Roberts and Moira Craig took out the $5,000 Water Corporation Sustainability Award for a work supporting sustainability in its message with Pathogen. The piece consists of a group of tumbleweed-like forms created from recycled plastic bottles. The shapes resemble the molecular structure of the COVID-19 virus, underlining plastic as another 'perilous virus' threatening to consume the planet.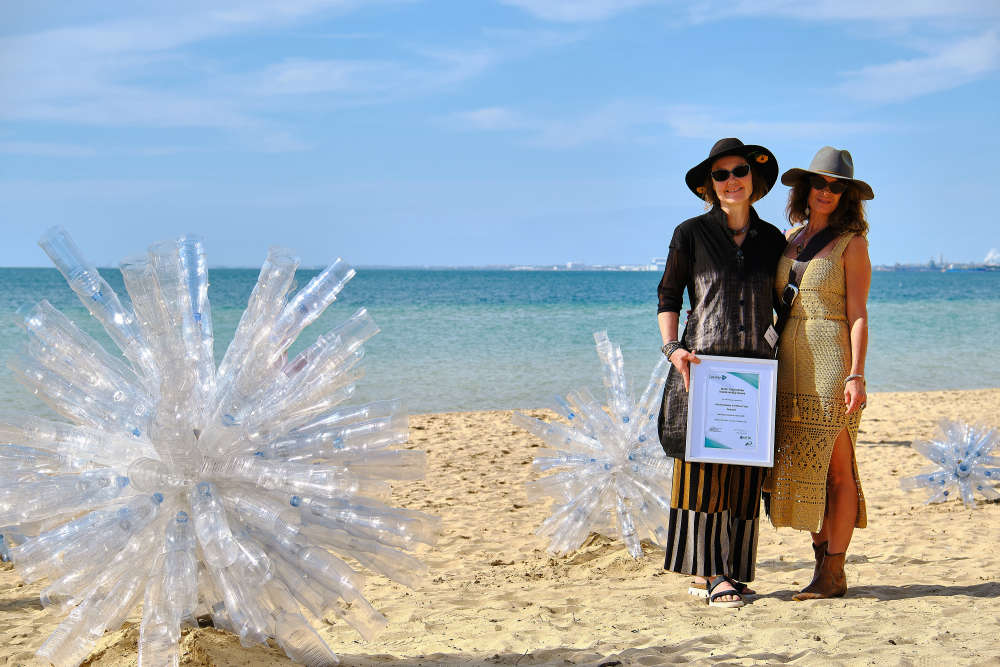 Water Corporation Sustainability Award winners Heloise Roberts and Moira Craig with their work Pathogen. Picture: City of Rockingham.
Winner of the $2,500 Waste Authority Maquette and Small Sculpture Exhibition was South Fremantle artist Margaret Dillon with Conglomeration. The $2,000 Local Resident Award was won by Carol Clitheroe for Respect for the Echinoderm.
The winner of the Alcoa Primary Schools Competition was Oakwood Primary School with Oh, oh Omeo…underwater hOmeo, while the winner of the Secondary Schools Competition was A Plastic Coast Creature by Rockingham Senior High School Education Support Centre.
"Castaways is the City's signature arts and culture event, giving both emerging and professional artists the chance to showcase their abilities to thousands of visitors each year," City of Rockingham Mayor Deb Hamblin said.
"As always, the quality of work submitted for this year's competition was of a high standard, and the City congratulates the winning artists on their creative efforts. Castaways is running until Sunday 31 October, so I encourage community members to head down to the foreshore and Rockingham Arts Centre to see these stunning pieces for themselves.
"The City would also like to thank its sponsors Alcoa, Water Corporation, Waste Authority and Fremantle Ports for their ongoing support."
Stunned and incredulous at his win, Alcoa Major Award Winner Mark Thompson said the award validated his place as an artist. "I entered competitions early in my career, but this is the first show I've been in since 1999. Winning has changed my perspective, and I'll certainly be thinking more about making art."
Judges Professor Clive Barstow from Edith Cowan University, and public artist Stuart Green said the work was simple and understated. The pair said it asks many questions, such as the place it (the sperm whale) holds in our eco-system. "It is provocative rather than explanatory - simple but powerful, and alone – and hints at a monumentality and a quirky nobility."
The Castaways Sculpture Awards continues with the Main Exhibition at the Rockingham Foreshore, the Schools Competition on Churchill Park and the Maquette and Small Sculpture Exhibition at the Rockingham Arts Centre until Sunday 31 October.