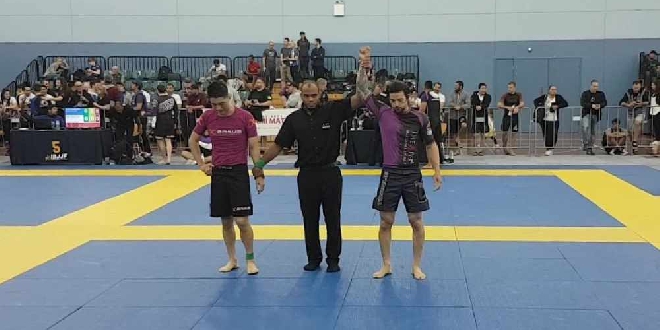 Travel Subsidy Grant recipient Antonio Jeanes recently captured gold at the Pan Pacific Jiu Jitsu Championships. PIC: Supplied.
A City of Rockingham Travel Subsidy Grant recipient has returned from the 2018 Pan Pacific Jiu Jitsu Championships with two medals.
Antonio Jeanes, a City of Rockingham resident, won a gold and silver medal at the event in Melbourne, which was held from October 26 – 27.
Mr Jeanes' success at the Pan Pacific Jiu Jitsu Championships follows on from fellow grant recipient Jayson Mann, who was a grand final winner at the National AFL Inclusion Carnival in Tasmania in June 2018.
City of Rockingham Mayor Barry Sammels said the City was delighted to support talented residents chase their sporting, cultural, leadership and educational dreams.
"Through the Community Grants Program, the City aims to provide assistance to talented individuals like Mr Jeanes through the Travel Subsidy Grant process," Mayor Sammels said.
"To see Mr Jeanes excel on such an elite sporting stage is a testament to his ability as an athlete and we congratulate him on a fine performance that brought home both gold and silver medals."
Mr Jeanes will now prepare for the 2019 World Masters Championships which will be held in Las Vegas.
Travel Subsidy Grants are available to people who live in the City of Rockingham and have been selected to represent their chosen activity at a local, national or international level at an accredited event held outside of WA or Australia.
For more information on Travel Subsidy Grants eligibility or an application form visit http://rockingham.wa.gov.au/Community/Community-Grants-Program or call 9528 0333.