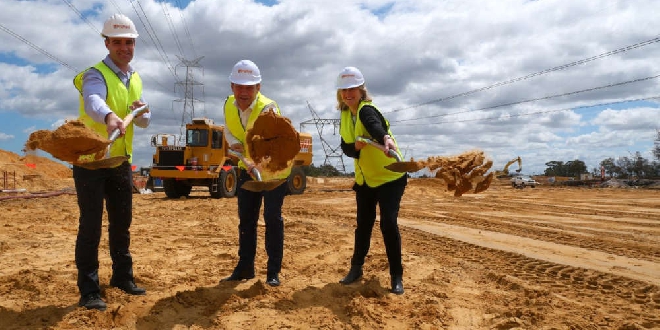 Aigle Royal CEO Brad Brashaw, Hon Roger Cook MLA, Member for Kwinana, and City of Kwinana Mayor Carol Adams at the Costco site. PIC: City of Kwinana
Construction of Costco's second Western Australia site has begun with civil works for the new warehouse underway.
Stage one of developer, Aigle Royal's, 60-hectare Casuarina site, will allow for the development of a large bulky goods commercial centre that will be located on the corner of Thomas Road and the Kwinana Freeway.
City of Kwinana Mayor Carol Adams said the warehouse represented a $50 million investment by Costco in the area and a positive economic development outcome for the City.
"The Costco Kwinana warehouse is set to be the fourteenth warehouse in Australia and one of 817 warehouses world-wide. Once open, the warehouse will create over 250 full time and part time jobs and provide a welcome boost to the local economy of the City of Kwinana," she said.
Hon Roger Cook MLA, Member for Kwinana said he looked forward to the completion of the project and the expanded range of retail options that will come with Kwinana hosting Costco's second store in Western Australia.
"Kwinana is one of the fastest growing local government areas in the South Metropolitan and wider Perth region. An investment of this magnitude reflects the great potential Kwinana has to offer, as well as demonstrating confidence in the future of the area," he said.
"The WA Government is committed to attracting private sector investment which is not only a vital component of creating a strong and resilient economy but will also create local jobs for Western Australians. The 250 full time and part time jobs associated with the Costco development is a much- welcomed injection for the local economy and the people of Kwinana."
The warehouse will include a tyre centre, optical centre, hearing aid centre and food court, with approximately 14,000 sq/m of floor area and 827 parking spaces.
Costco Casuarina will feature a fuel station, offering ULP91, Premium 98 and Diesel.
Construction of the building is expected to start in December 2021, with a view for finishing and opening to the community in the second half of 2022.