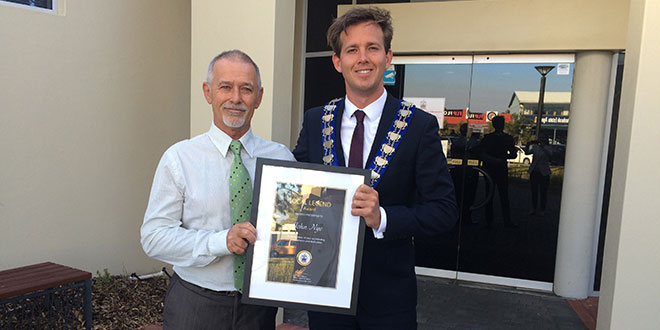 PIC: Supplied
Mandurah mainstay John Nye was named the City of Mandurah's local legend for November.
The City of Mandurah recognised John Nye as a legend for his fundraising work for Peel Youth Medical Service.
The Mandurah resident of 19 years completed a solo motorcycle ride of all four corners of India, breaking a Guinness World Record and raising money for the PYMS.
John's journey began in August when he travelled around the coast of India, slashing 11 days off the existing record, completing the challenge in 23 days, raising more than $10,000.
He said the ride was one of the toughest he'd ever experienced with extreme weather, crazy traffic, bad road conditions and technical issues in the Himalayas.
He was forced to begin the ride a week earlier than planned due to weather conditions and deteriorating roads.
City of Mandurah Mayor Rhys Williams said it is a great privilege to meet such an inspirational person.
"Your record breaking challenge reaching all four corners of India is impressive to say the least," he said.
"I would also like to congratulate you on your outstanding fundraising effort raising $10,375 for PYMS. Our community is a better place because of people like you.
"If you know of someone you think deserves to be a Local Legend please contact me.'