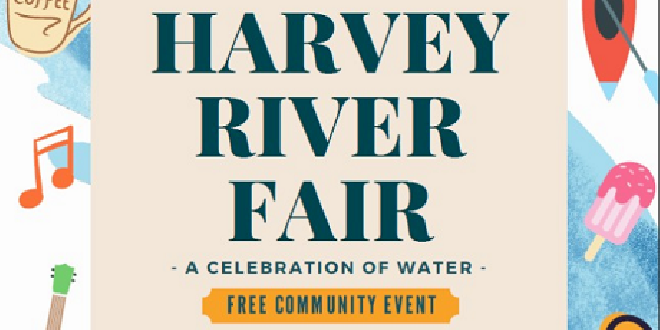 PIC: Greening Australia Website
Communities along the Harvey River are invited to a new festival that will celebrate the iconic waterway's valuable ecosystem and inspire stronger connections to the river through a series of events.
Funded by Lotterywest, the Harvey River Festival will feature three events, kicking off on April 18 with the Harvey River Fair at Drakesbrook Weir in Waroona, followed by a Feature Documentary Screening in May and The Big River Picnic in June.
The festival of events aims to engage the local community and raise awareness of the importance of a healthy Harvey River.
Historical use of the Harvey River as a drain for surrounding agricultural areas, combined with increasing pressures under a changing climate, means many aspects of the river ecosystem are in trouble.
A number of organisations and industry have come together in the effort to restore the Harvey's lower reaches, improving water quality and re-establishing habitat for wildlife.
"From the work that's been done on the Harvey River so far, including an aquatic survey of restored and unrestored areas by Murdoch University, we already know that practical action can help bring heavily degraded parts of the river ecosystem back to life." Ruth Cripps from Greening Australia's Helping the Harvey Project said.
"The project partners are focused on taking targeted action to make a big impact for the river. This festival is our invitation to the local community to share our vision, and be part of restoring the Harvey as a healthy system for all to enjoy."
Over the next three years, the project partners will work on a targeted restoration demonstration site along the Lower Harvey River.
They will trial improving habitat for freshwater fish and marron species by installing instream features to provide shelter from increasing water temperatures and other changing conditions in the channel.
Revegetation of the channel banks and fencing out livestock will also form part of the project to provide shading and cooling of the river corridor as well as improving water quality.

This work is made possible thanks to funding through the Alcoa Foundation's Three Rivers, One Estuary initiative, and forms part of the wider collaborative partnership between Harvey River Restoration Taskforce, Water Corporation, Peel-Harvey Catchment Council and State NRM all working together under 'Marron More Than a Meal'.
"We are thrilled to be part of this project. Our drainage systems are an important part of the eco system and Water Corporation will be monitoring the outcomes of this project closely to see if we can replicate these design changes in our drainage system in other areas." Water Corporation Regional Manager, Nicola Waite said
Alcoa Corporate Affairs Manager Suellen Jerrard thanked the community for supporting the restoration work done to date across major waterways in the region and urged them to continue to get involved.
"Waterways like the Harvey River are the lifeblood of these areas and we all need to work together to restore and protect them," she said.
For more information on Harvey River Festival events, visit the Greening Australia's website.