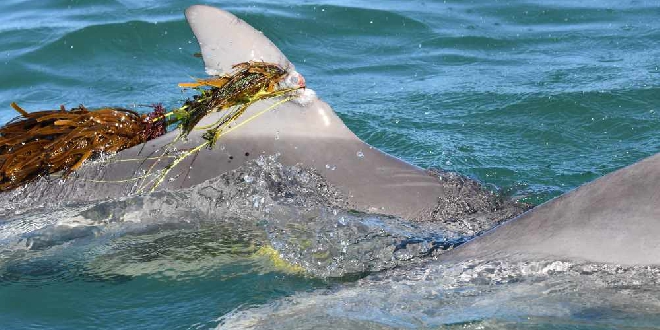 PIC: Mandurah Estuary Guardians/Facebook
Wildlife officials are looking at long-term solutions for a young dolphin entangled in Mandurah's waterways.
Luca the dolphin has had fishing line caught on his fin three times this year.
The Department of Biodiversity Conservations and Attractions (DBCA) have been working since last Tuesday to free him again, but have had no luck.
The line caught on Luca made notches in his dorsal and pec fins.
DBCA Wildlife Officer Cameron Craigie said the cuts mean he's more likely to pick up foreign items sitting in the water.
"The major issue is that naturally occurring discarded plant matter that degrades will come away, but foreign matter like fishing line, any sort of strings or anything else that's built to not degrade will cause him further conflict, and not come away by itself," he said.
Although officers and volunteers have spent every day trying to remove the line, Craigie said it's no longer about freeing him.
"We need to look at what we can do for him in the future to give him a better chance at long-term survival," he said.
The long-term solution currently under consideration is the removal of part of his dorsal fin.
Dolphins can naturally lose part of their fins through predation, but Craigie said Luca could end up worse off if the DBCA don't remove it themselves.
"For it to naturally come away it'll take too long... that time period can be quite stressful for him and probably will deplete his immune system... he might pass away," he said.
"We are looking at the possibility of being able to remove the area that's effected the worst and would be most likely to catch on things, and then look at how we would deal with him after the surgery."
Craigie is urging the community to keep our waterways clean to prevent this happening in the future.
"It's a message for everyone - we all enjoy our environment and in order to keep our environment pristine we need to look after it," he said.
"That means that if you leave anything that could affect fish, dolphins or turtles, the best thing to do is always pick up after yourself.
"The other side of that is that if you do see that something has been left behind, you can take it upon yourself to clean it up and increase the chances of animals being able to survive in our environment."