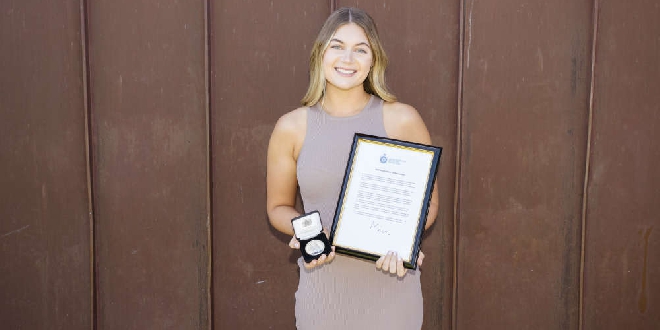 Megan Larmour was presented with the Russell Medal during the 2021 Royal Life Saving Bravery Awards. PIC: Supplied
A Mandurah teenager has taken out an international Royal Life Saving award after she performed CPR on a man who had a heart attack when she was just 16-years-old.
Megan Larmour was presented with the Russell Medal during the 2021 Royal Life Saving Bravery Awards on Friday.
The medal recognises instances of outstanding resuscitation, or attempted resuscitation, performed by a person under 18-years-of-age, in any Commonwealth country across the world.
Megan received a Royal Life Saving WA Bravery Award in 2019 and was subsequently successfully nominated for the Russell Medal.
"I'm so grateful and proud to be receiving it (the award), it's such an amazing thing," Megan said.
The now 18-year-old was having breakfast at a café in Mandurah in March 2019 when she was alerted to an emergency unfolding nearby.
A man had suffered a heart attack in the shopping centre carpark and collapsed.
"I went into autopilot and because of my job as a lifeguard I had training in CPR and first aid," Megan said.
She couldn't detect a pulse or breathing so began performing CPR on the victim.
A staff member from a nearby business arrived with a defibrillator and Megan cut the man's clothing and applied the defibrillator, shocking him twice while continuing to perform compressions with the help of another bystander.
He was taken to hospital where he was revived and placed into an induced coma.
Sadly, he passed away, but her the prompt application of CPR and the defibrillator meant his family were able to say goodbye, and also ensured that his organs remained viable so his family were able to donate them to save the lives of others.
"You're in that position where there's literally someone's life in your hands and you can either step back and just watch or you can go and make a difference and that's what I chose to do," Megan said.
"It's definitely shaped me into the person I am.
"I'm in my second year of nursing so it definitely inspired me in what I want to do and that helping people is something that I'm passionate about."
Megan is urging everyone to do a first aid course.
"It is one of the most important things you can do," she said.
"Just knowing those basic skills, it can literally be the matter of someone's life or not.
"You never know when you're going to need it."