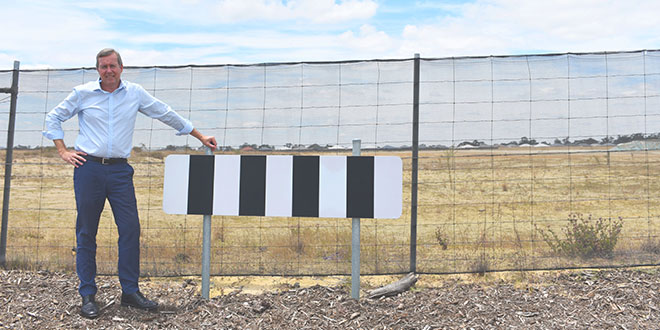 PIC: Supplied
Baldivis MLA Reece Whitby has welcomed the announcement.
Around 430 students will soon be enrolled at a new primary school in Baldivis, announced earlier this morning.
The new school is set to be built in the south of the rapidly-growing suburb. The new Baldivis South Primary School, a planning name, will be located along Nairn Drive and open in 2021 accommodating for up to 430 students in Kindergarten to Year 6.
The decision comes after an earlier announcement in January that a new primary school would also be built in North Baldivis near Baldivis Road and is due to open in 2020.
Baldivis MLA Reece Whitby welcomed the announcement.
"Schools are a boom industry in Baldivis as our community grows and more young couples start families," he said.
"The McGowan Government is hugely committed to Baldivis as this is the second new primary school announced for Baldivis in just 11 months."
A second State Government High School, Ridgeview Secondary College, opens its doors in Baldivis in 2019. Construction of the new $17 million Baldivis South primary school will start in late 2019.
"With Ridgeview Secondary College opening its doors in a few months, we will see a brand new school open in Baldivis every year over the next three years," Mr Whitby said.
When completed, there will be an administration block, library resource centre, staff room with a conference room, teaching area for Kindergarten and Pre-primary classes, two general teaching areas, and a general teaching area with an art and craft room.
Students will also be able to enjoy a covered assembly area with canteen and a music room, hard courts and an oval for sporting and outdoor activities.
Located on Nairn Drive in Baldivis, the new school will provide enrolment relief for nearby Tuart Rise Primary School which currently has more than 700 students.
"This school will be a fantastic addition to our community, providing local students with modern facilities within which to learn and develop," Mr Whitby said.
"Having a new primary school in this location will allow more local families the convenience of sending their kids to a nearby school and cutting down on travel time.
"I look forward to watching local kids begin school at the new facility in 2021, which will be an exciting time for our local community."