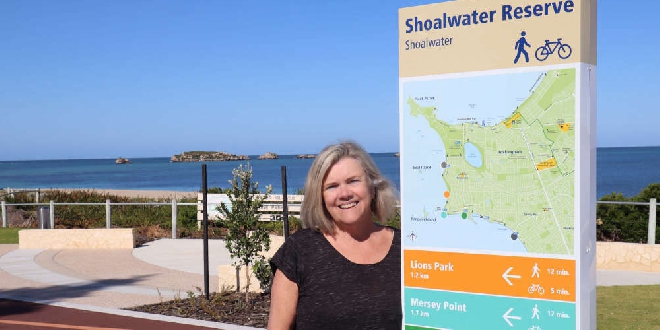 Mayor Deb Hamblin stands alongside one of the new signs installed at Shoalwater Reserve. PIC: City of Rockingham.
The Safety Bay Shoalwater Foreshore precinct is renowned for its natural beauty and now the coastal experience for both locals and visitors alike will be further enhanced after the City of Rockingham installed new tourism wayfinding signage. 
Aligning with the recent completion of the Shoalwater Reserve Activity Node project, the City has installed the information signs at five different locations to help connect some of the area's most popular locations.
The new pedestrian tourism wayfinding signage is located at Shoalwater Reserve, Lions Park, Mersey Point, The Pond and the Waikiki Foreshore.
The signs include distances in kilometres, plus walking and riding times between each of the five areas.
City of Rockingham Mayor Deb Hamblin said the installation of new tourism signage was an important action in the City's Tourist Destination Strategy 2019 – 2024.
"The Safety Bay Shoalwater Foreshore area is loved by locals and visitors alike for its unique natural assets. Overlooking the Shoalwater Islands Marine Park, the region embodies why our City is known as the place where the coast comes to life," Mayor Hamblin said.
"The recently delivered Shoalwater Reserve Activity Node was a key part of the City's Safety Bay Shoalwater Foreshore Master Plan. The installation of the new wayfinding tourism signage complements the popular activity node project, and will give visitors a clear idea of what to expect when travelling along this unique section of coastline.
"The City is right in the middle of its Rediscover Springtime tourism campaign and encourages anyone who hasn't yet visited the Safety Bay Shoalwater Foreshore precinct, or the activity node specifically, to come and rediscover Rockingham today."
For more information on the range of exciting attractions on offer in the City visit rockingham.wa.gov.au/events-culture-and-tourism/visiting-rockingham/tourist-attractions