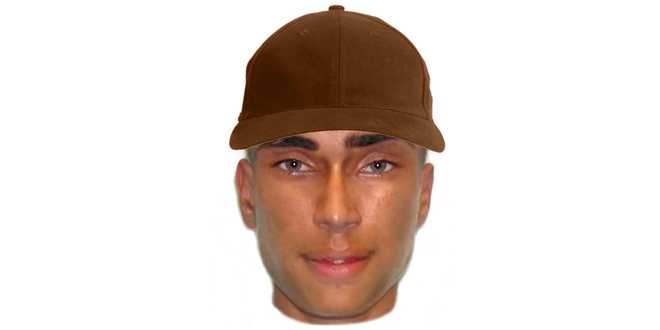 PIC: Supplied
Police believe the man pictured can help with their investigation.
Mandurah Detectives have released a composite image of a man, who they believe can help with their investigation into an alleged indecent assault in Dudley Park.
Police say the man in the image allegedly indecently assaulted a woman in her 20s while walking along Churchill Street around midday on Tuesday.
The image release by officers is of a boy believed to be about 17-years-old. He was described as about 165cm with dark skin, wearing a camo t-shirt, light chinos trousers and a brown cap.
READ MORE: Police Probe Dudley Park Indecent Assault
At the time he was with two other youths, who were not involved in the assault. One is described as a male around 17-year-old, 165 cm tall with fair skin, wearing a black shirt and the other male is also described as around 17-years-old, about 175cm tall, light skinned with blonde hair and wearing a black hoodie, black Adidas pants and a black cap.
Mandurah Detectives would like to speak to anyone who was in the area at the time who may have seen the incident or the youth described.
Anyone with any information is asked to call Crime Stoppers on 1800 333 000 or report online at www.crimestopperswa.com.au