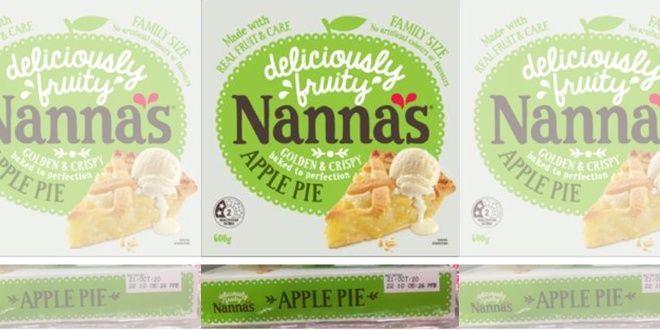 Patties Foods is conducting a national recall of its family size Nanna's Apple Pie.
Patties Foods, who make the well-loved Nanna's desert range, are recalling the 600 gram family apple pie, due to the potential presence of glass in an ingredient used in the product.
The recall stems from an equipment failure with the supplier.
No other Nanna's products are affected by this recall.
The affected product is the family size Nanna's Apple Pie with the best before dates of October 21 2020 and October 22 2020.
The recalled product has been available for sale in Coles, Woolworths, IGA's, Foodlands and other independent supermarkets throughout Australia.
Any consumers concerned about their health should seek medical advice. People who have one of the potentially dangerous products can return to them to the place of purchase for a full refund.