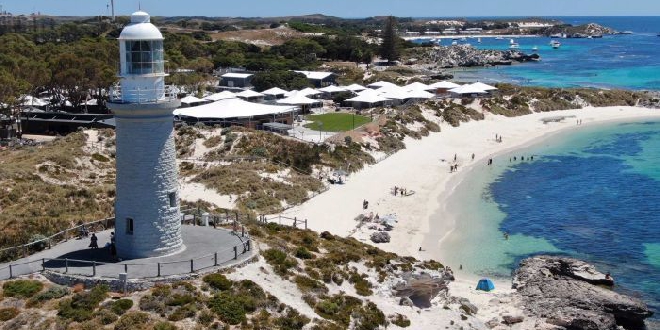 PIC: ABC News
Rottnest Island is set for a huge upgrade with a $33.4 million funding boost from the Federal and State governments
Federal Tourism Minister Simon Birmingham said the Commonwealth will invest $17.2 million towards the upgrade of the holiday island, the largest Federal government contribution to Rottnest since World War II.
"Rottnest Island is an iconic destination that's been enjoyed by millions of visitors from Australia and overseas, but with that huge growth in visitation comes strain on the sustainability," he told the ABC.
"[That] is why we're investing in upgrades to jetties, wharves, walking trails, as well as a big facelift for the museum.
"Rottnest Island saw double-digit percentage growth in terms of visitation last year, and that's fantastic in terms of the number of tourists out and about in Western Australia."
Premier Mark McGowan has also announced the State government will contribute $16.2 million which will go to completely redeveloping the fuel jetty and moving the barge landing from the main jetty to the army jetty.
"Rottnest Island continues to experience huge visitation numbers, which is why our investment towards key infrastructure is vital in ensuring the island's sustainability into the future," Premier McGowan said.
Tourism Council WA CEO Evan Hall said he was delighted to see Rottnest Island identified as a national tourism icon.
"It is great to see Rottnest Island, and Western Australia, leading the list of national tourism icons and destinations to benefit from the $50 million Tourism Icons Package announced in the recent Federal Budget," Mr Hall said.
"The funding will enable Rottnest Island visitation to grow while protecting and enhancing its unique environment, culture and Aboriginal heritage."
Rottnest continues to be a popular tourism destination, experiencing a record 770,000 visitors in 2018.