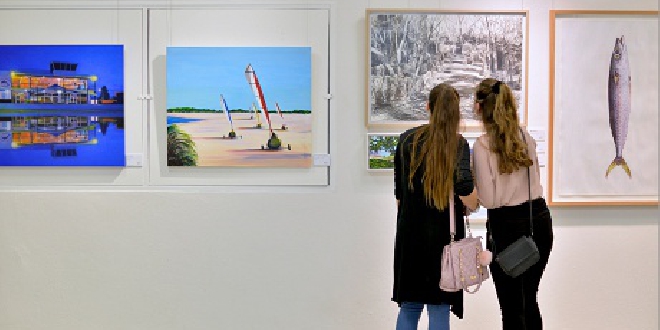 PIC: Supplied City of Rockingham
The City of Rockingham's Art Awards exhibition is set to return in May to the Gary Holland Community Centre and the Rockingham Arts Centre. 
The exhibition will feature the work of 80 emerging and professional artists, who have each responded to the theme of Connection.
Awards will be available to artists across seven different categories including Open, Heritage, Aboriginal, Emerging, Local Resident, Youth and 3D with a total prize pool worth $20,000.
In addition, there will be an opportunity for one person who has voted in the People's Choice category to be drawn as the winner of the $250 People's Choice Award.
There will be one Twilight Tour on Wednesday May 5, presented by curator Jude van der Merwe, joined by one of the judges, offering visitors added insight into the artworks on display.
Mayor Barry Sammels said the City was excited to host the awards again following the cancellation of the event last year due to COVID-19 restrictions.
"This year's Art Awards are the fifth edition of this popular competition. As last year's Art Awards were cancelled only a couple of weeks prior to the exhibition, the accepted entries from 2020 have been carried over to this year's event," he said.
"Given the significant impact COVID-19 has had on the arts sector, the exhibition represents a fantastic opportunity for people to support the local arts community."
The exhibition will be open daily from 9am – 4pm starting Saturday May 1 – Sunday May 16 at both venues and entry is free.
Registrations are essential for the Twilight Tours as places are limited.
To register, call the City on 9528 0333 or email customer@rockingham.wa.gov.au
For more information on the Rockingham Art Awards visit rockingham.wa.gov.au/artawards