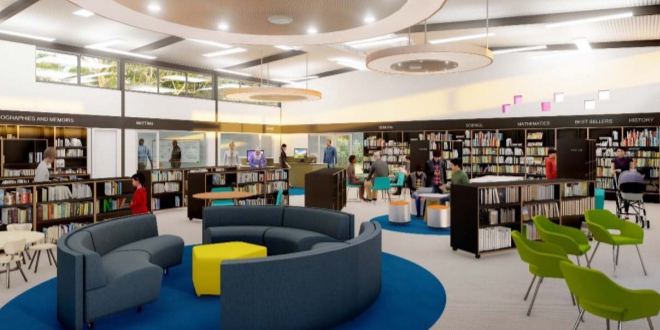 PIC: Concept design for illustration purposes/ Shire of Jarrahdale Serpentine Facebook
Residents will soon be able to access an enhanced library facility when the Shire of Serpentine Jarrahdale library services relocate to Byford.
At a Special Council Meeting on Monday, March 29, Council approved the relocation of the Shire's library services to Byford Hall.
Shire President Cr Michelle Rich said the current library facility at Mundijong was overcapacity and meant that it was unable to cater for future growth and expansion required to support the Shire's growing population.
"At the Mundijong Public Library building there is limited space for additional stock, technology and community meeting rooms," she said.
"The library regularly reaches capacity for programs and events, which means they are often delivered off-site or at a reduced capacity and there is limited space available for community members or groups to meet within the building.
"By moving the library services to Byford Hall it will provide greater access to a majority of the Shire's population, allow for additional books and resources, improved spaces and technology and the opportunity for customer service functions and co-working spaces to be provided.
"We will also investigate providing a weekly mobile library service that would visit other localities throughout the Shire including Mundijong, Serpentine and Jarrahdale.
"Opportunities for community input to help shape the delivery of the Shire's library services, both at the new location at Byford Hall and through a mobile service, will be provided in the coming weeks."
Cr Rich said the Council recognised that the decision to relocate the Shire's library services will impact current library users, hirers and users of Byford Hall and the broader community.
"The Shire is committed to working with existing hirers of Byford Hall to assist them in identifying alternative facilities to continue their programming and activities," she said.
"The Shire will meet with each current facility hirer of Byford Hall to understand their requirements and explore any relocation assistance, financial assistance by waiving or discounted fees, and any potential upgrades that may be required to alternative facilities.
"This will then be presented back to Council in May for its consideration."
It is anticipated the relocation of the Shire's library services to Byford Hall will occur by December 2021.
Residents can find more information about the relocation of the Shire's library services, including FAQs, here:
www.yoursaysj.sjshire.wa.gov.au/libraryservices