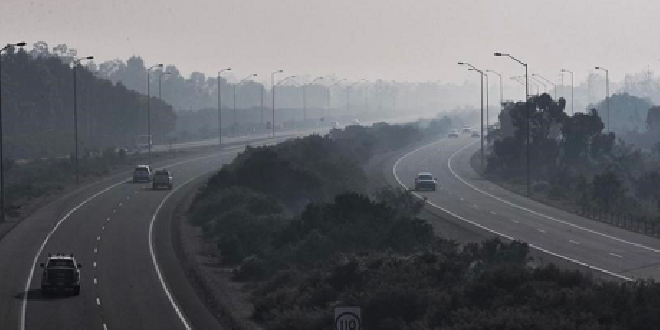 PIC: Daniel Wilkins/The West Australian
A smoke alert has been issued for the Perth Metropolitan area down to Busselton, with the haze expected to clear by mid-morning tomorrow.
The Parks and Wildlife Service issued the smoke alert this morning, which also included the Forrest Highway and the South West Highway.
The smoke is from a combination of prescribed burns by the Parks and Wildlife Service and a number of private property burns.
WHAT TO DO:
If the smoke is particularly thick, it is recommended people shut doors and windows and turn off air-conditioners.
Smoke may reduce visibility on some roads and motorists should take care, turn on headlights and travel at appropriate speeds when travelling in these areas.
People with asthma and pre-existing respiratory or cardiovascular illnesses should follow their pre-prepared treatment plan.
People with conditions exacerbated by smoke should take precautions in line with their medical advice for these circumstances.
The Department of Health is also warning the public to take the necessary health precautions in response to smoke caused by prescribed burns.
Exposure to smoke from fires can exacerbate asthma and other respiratory conditions, cause coughing and shortness of breath, and temporarily irritate the eyes, nose and throat.
The Department is advising people to implement a number of precautions to minimise exposure to environmental smoke if people consider themselves to be at-risk.
PEOPLE ARE ADVISED TO:
Switch off air conditioners that do not allow for the fresh air intake to be turned off.
Shut doors and windows.
Stay inside if possible. This is particularly important for people with asthma and other respiratory conditions.
Limit outdoors exercise or avoid it completely.
Seek relief from smoke inside a shopping centre or other suitable public building.