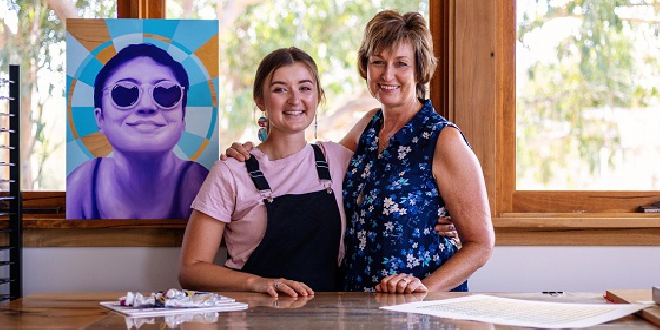 PIC: Mother and daughter artists Jacqueline Watt and Lauren Repton.
Peel Open Studios is back for 2021, giving the community exclusive access into private artist studios to see how artworks are created.
From today, more than 45 artists from the Peel region will open their studio doors to the public, providing a unique look into their artistic process and working space.
This free, family friendly event is now in its third year, providing a great chance to support the region's artistic community and witness first-hand how an artist works.
Mayor Rhys Williams encouraged curious minds to take a look at the Peel Open Studios program.
"This is a great opportunity to support, celebrate and connect with the abundance of talented local artists we have in the Peel region, and the valuable contribution they make to our community," he said.
"Take a glimpse into the life of an artist, see how they work, and how their creations are developed.
"We're so fortunate to have amazing talents right on our doorstep, so I'd encourage everyone to check out the program and head along to an open studio session."
Mother and daughter artists Jacqueline Watt and Lauren Repton, whose studio is in West Coolup, are participating in the program for the first time this year, and are excited to welcome visitors.
Lauren's mediums are oil painting and polymer clay jewellery, and Jacqueline creates reduction screen prints on paper.
"We've always loved visiting open studios and our goal this year was to participate in Peel Open Studios," they said.
"It's such an accessible program to be a part of as emerging artists and we hope it grows within the Peel region in the future to showcase local talent.
"We're very excited to welcome visitors to our studio to view our creations and process, and to encourage others to become involved in the program in years to come."
Greenfields-based artist Lisa Wray has been involved in Peel Open Studios from the beginning, showcasing her abstract mixed-media works with resin, acrylic paint, homemade texture pastes and vibrant colors.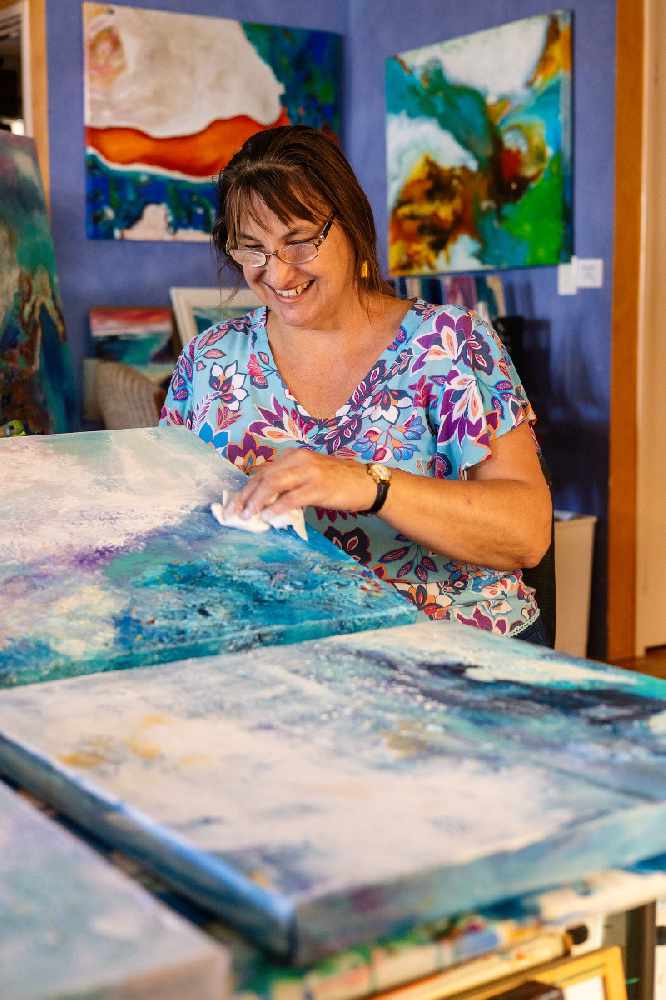 "The program is a fantastic opportunity to show my artwork to the public. I enjoy opening up my studio – Lisa Payton Creative Arts – for people to come and experience where art is made," she said.
"I found that from participating, it helps to give the public an understanding of what goes into making up handmade artworks and how art is created by seeing ideas and processes in action, creating many questions and discussions.
"People tell me all the time how much they love my artwork and it's a worthwhile experience to be involved in."
The inaugural Peel Open Studios: Origins exhibition is now on show at the ALCOA Mandurah Art Gallery at the Mandurah Performing Arts Centre.
From now until April 18, the public can view an eclectic display of artworks from the artists of the Peel Open Studios program, giving a taster of what can be found in the studio spaces.
For more information about Peel Open Studios, including the event guide, studio locations and opening times, go to www.peelopenstudios.com