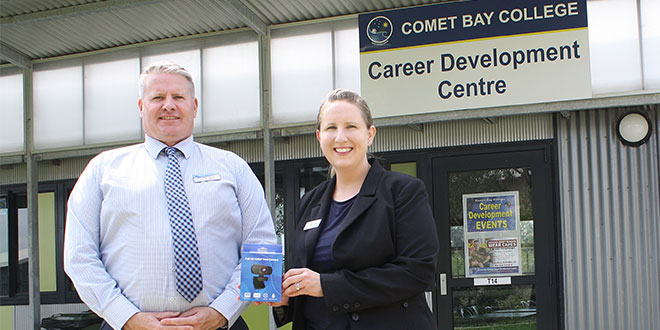 PIC: Comet Bay College Principal Jamie Hayres accepts the College's new webcam from Defence Health Community Relationships Officer (WA) Lauren Gallagher.
Comet Bay College is the first school in WA to be gifted a webcam as part of the Making Connections Matter program.
The Defence Health school-based initiative aims to connect students to their Australian Defence Force parents while they are away on deployment.
Defence Health Community Relationships Officer (WA) Lauren Gallagher said supporting families separated by deployment was a high priority and virtual connections via webcams was a great way to bring people together.
"We are thrilled to give Comet Bay College students an opportunity to engage with deployed Royal Australian Navy members, who also are parents from the school community," she said.
"It is wonderful that advances in technology can help these families bridge that gap during periods of separation."
Comet Bay College has 62 students from ADF families, largely due to its proximity to Garden Island.
Defence School Mentor Claire Hunt said the webcam would also be used in whole-class initiatives as part of the College's Career Development program.
"Connecting with family members during deployment gives teachers and other students a greater understanding of a Defence student's unique situation with a parent absent from home," she said.
"It's also a great way for our students to share the experiences of Australian Defence Force personnel, see the environment they work in and gain more of an understanding of the importance of their work.
"In particular, those students thinking about joining the ADF in the future can benefit from live correspondence with a military member for advice and mentorship."