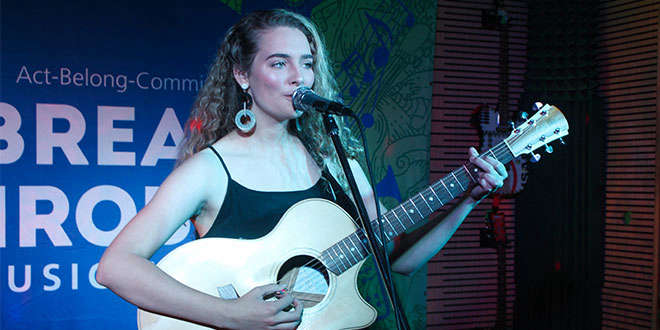 2020 Breakthrough Music Competition Senior Category Winner Ella Melton. Picture: City of Rockingham.
Registrations are now open for the City of Rockingham's 2021 Breakthrough Music Competition.
Held annually, Breakthrough gives young people an opportunity to showcase their talents, and is a potential pathway for those seeking to develop a career in the music industry.
Participants in this year's competition will have the chance to win cash prizes up to $1000, as well as studio recording, video and photo shoot opportunities and free music lessons. The competition will comprise three categories including the Senior Division (17 – 24), Junior Division (12 – 16) and an all new Band Division (open to 12 – 24).
Heats will take place throughout November, with the Breakthrough Music Competition final to be hosted on Sunday 28 November at the Lookout on the Rockingham Foreshore.
This year's competition will feature a judging line-up that includes Jordan Anthony and Nikki D'Agostino, with special guest judge Kav Temperley from Eskimo Joe joining the City for the final event.
City of Rockingham Mayor Barry Sammels said Breakthrough provided aspiring musicians with the opportunity to fast-track their career in the music industry.
"For nearly a decade, Breakthrough has given young musicians the tools to take their first steps in the professional music industry," Mayor Sammels said.
"Since 2012 artists from a variety of musical backgrounds have taken the chance to turn their passion into greater success and the City encourages local young people who are keen to forge a career in the music industry to get involved."
Registrations close Friday 29 October. For more information or to register online, visit take8.com.au/breakthrough or call 9529 2021. Alternatively, contact the Rockingham Youth Centre on 9591 0836 or email youthcentre@rockingham.wa.gov.au.
Entry is free to entrants who live within the City of Rockingham. Entrants who live outside the City of Rockingham must pay an entry fee of $15 to be eligible for competition.
Key dates for the competition are as follows:
Heat One
Date: Sunday 7 November 2021
Time: 11am – 2pm
Venue: Rockingham Youth Centre
Heat Two
Date: Sunday 14 November 2021
Time: 11am – 2pm
Venue: Stockland Baldivis (Shopping Centre)

Heat Three
Date: Sunday 21 November 2021
Time: 11am – 2pm
Venue: Secret Harbour Square (Shopping Centre)

Final
Date: Sunday 28 November 2021
Time: 11am – 2pm
Venue: Lookout, Rockingham Foreshore