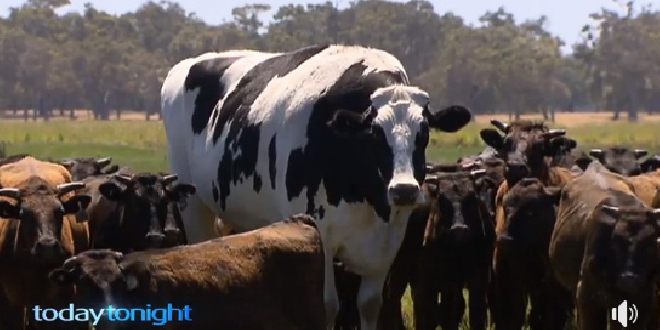 PIC: Today Tonight
Standing at nearly two-metres tall and weighing 1.4 tonnes, 'Knickers' is unofficially the largest steer in Australia.
The Holstein Friesian was purchased by Myalup cattle farmer Geoff Pearson for $400 in Brunswick, Melbourne.
"We knew that he was always going to grow into a big steer, but we never realised he'd get this big," Mr Pearson told Today Tonight.
Mr Pearson said due to his size, seven-year-old Knickers is too big for the abattoir.
"He was unable to fit into the supply chain so Knickers lives on," he said.
Knickers was purchased to take charge of the other cattle in the herd
The tallest steer in the world can be found in Italy standing at 202cm, according to the Guinness World Records.