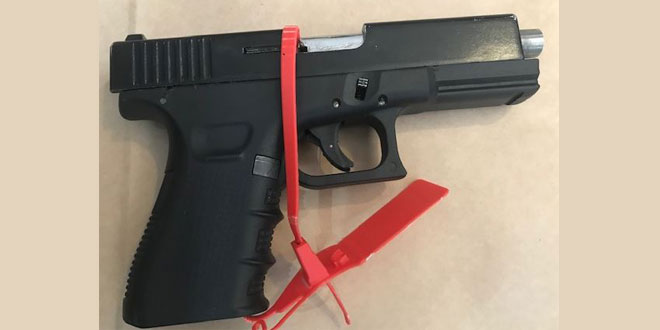 Pic: Supplied
Rockingham Detectives have charged two people as part of their ongoing operation, to disrupt organised crime networks and reduce the supply of illicit drugs in the Mandurah District.
Yesterday, 6 November 2018, Rockingham Detectives with the assistance of Gang Crime Squad detectives executed a search warrant at a residence on Delaney Parkway, Port Kennedy.
It is alleged during the search police located and seized:
Approximately 33.24 grams of methylamphetamine;
A Glock pistol;
Several weapons including a flick knife and Asp baton;
Over $4,000 in cash;
Various drug paraphernalia.

A 33-year-old man and a 46-year-old woman, both of Port Kennedy have been charged with:
1x Possession of a Prohibited Drug with Intent to Sell or Supply;
1 x Having ready access to both weapons and illegal drugs;
1 x Having ready access to both weapons and cash;
1 x Possess Firearm with Circumstances of Aggravation;
1 x Unlicensed person possess firearm/ammunition;
2 x Possess prohibited weapon;
1x Possessed any drug paraphernalia in or on which there was a prohibited drug or plant; and
1x Possession of stolen or unlawfully obtained property.
They are both due to appear before the Rockingham Magistrates Court today, 7 November 2018.