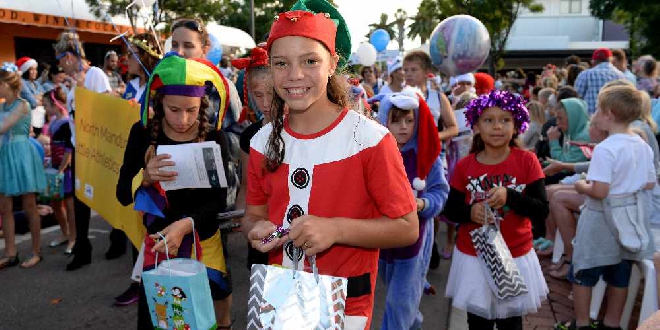 Mandurah Christmas Pageant. PIC: Supplied
The festive season will kick off in Mandurah with a bang this Friday, November 30.
The City has planned a month of celebrations featuring plenty of free family events and festivities, starting with the Mandurah Christmas Pageant and fireworks.
Santa will make a special appearance, there will also be Christmas carols, a nativity scene, free rides, workshops and plenty of food options to enjoy around the city centre.
This year the Christmas pageant will take a slightly different route and will feature 44 floats, which will make their way from Hall Park over the new traffic bridge, around the city centre and finishing back at the Western Foreshore.
Christmas pageant road closures will be in place from 5pm, water closures from 8pm.
This year the City has boosted the amount of Christmas decorations and lights throughout the city centre in coordination with other local businesses, including Mandurah Cruises at Mandjar Square and Dolphin Quay.
Mandurah's month of Christmas will also include the Canal Christmas Light Cruises, Christmas markets, motorcycle charity ride, Christmas carols and a great Aussie Christmas BBQ.
The festive calendar of events will finish in style on New Year's Eve with a line-up of free and family friendly celebrations including one of WA's biggest New Year's Eve fireworks displays.
City of Mandurah Mayor Rhys Williams said the City has been working hard on creating a fantastic schedule of community and family friendly events for the month of Christmas.
"We encourage all our residents and businesses to come along, share the festive spirit and help make this year's celebrations our best ever," Mayor Williams said.
"This year we are also inviting a member of our community to join me at the Christmas pageant, to help me officially launch the season and flick the switch to turn the Christmas lights on," Mr Williams said.
This year the City is working with children's charity Variety WA to help collect gifts for families doing it tough at this time of year.
If you would like to help out, please bring along a gift for a child under the age of 12 years old to the value of $20 and place it in Santa's sleigh, which will be located on the Eastern Foreshore during the Christmas pageant.
Donation suggestions include; toys (new toys please), gift vouchers, gift sets, cash and wrapping paper.
Donations can also be left at the City of Mandurah Administration building until 7 December 2018.
Christmas Pageant
Friday, 30 November - 6pm
Fireworks – 8:30pm
Eastern Foreshore and city centre
New Year's Eve
Monday, 31 December
Family friendly event - 6pm to 9pm (Eastern Foreshore)
Fireworks - 9pm
Fireworks – midnight