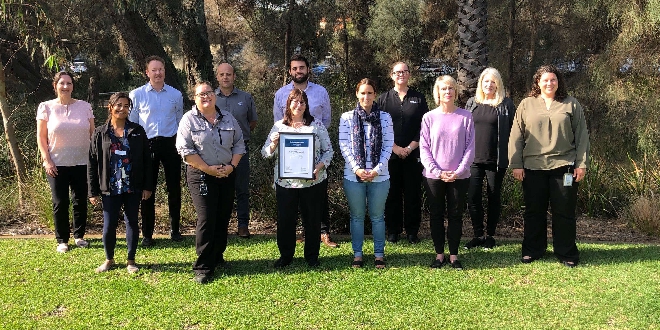 Health Services team Kim Frost, Yashvee Manrakhan-Field, Glen Fiorini, Peta Foulkes, Scott Severn, Samantha Ledger, Joshua Malone, Tamara Sharrett, Shayna Burton, Danielle Isaac, Wendy Murphy and Rachel Hellema.
The City of Mandurah's Health Services team has struck gold again, being named 'Environmental Health Local Government Team of the Year' at the 2021 Environmental Health Australia WA conference.
The Mandurah team was awarded best in the state for its outstanding service in environmental health.
The Health Services team previously won the award in 2019, and has built on its success by continuing to deliver a range of important public health programs to the community including mosquito management, food safety, water safety, event management and community education.
The team also responds to public concerns relating to various health-related matters such as asbestos, noise and pollution.
Chief Executive Officer Mark Newman said the team was awarded for going above and beyond their core duties in environmental health especially the role the team played during the COVID-19 pandemic.
"The Health Services officers played a pivotal role in helping to guide the community, including many local businesses, through the requirements and restrictions in response to the pandemic," Mr Newman said.
"The team conducted themselves professionally in helping the community to navigate any uncertainties and offer advice as the pandemic was unfolding, and equally as we started to emerge on the other side.
"The health of our residents and visitors is at the forefront of everything they do, and we are proud of what they've achieved. By building trust and relationships in the local community, the team has shown a commitment to making the City of Mandurah one of the easiest local governments to do business with."