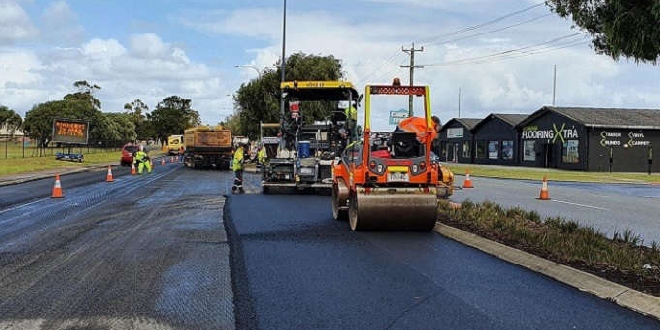 The City's Road Rehabilitation and Renewal Program will run until the end of January 2022. PIC: City of Rockingham
The City of Rockingham's Road Rehabilitation and Renewal Program is underway.
35 projects are included in the program, which forms part of the City's overall asset management activities, and is set to run until the end of January 2022.
The program is delivered annually to ensure the City's road network is maintained to appropriate standards for the safety and comfort of road users.
In addition to the resurfacing of various roads, the City will also upgrade stormwater drainage lids as well as replacing broken kerbing.
Overall, 11km of road will be resurfaced, which equates to more than 86,000 sqm of surface area.
Key projects to be completed as part of the 2021/2022 Road Renewal Program include:
Over $1 million to rehabilitate Mandurah Road between Pike Road and Outridge Road in Baldivis.
More than $335,000 to rehabilitate Safety Bay Road between Boundary Road and Coventry Road in Shoalwater.
Around $111,000 to resurface Memorial Drive between Point Peron Road and Lease Road in Peron.
"With more than 1,100 km of roads across the community, the City of Rockingham is responsible for managing an extensive and growing road network," Mayor Barry Sammels said.
"A week prior to projects beginning, community members in areas featuring works will be notified of the relevant projects via letter drops and the use variable message boards. Traffic management will also be implemented where required."
To stay up to date with the latest roadworks across the City visit rockingham.wa.gov.au/projects