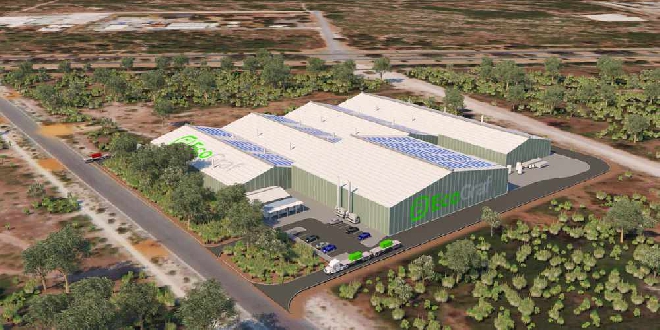 Proposed EcoGraf processing facility. PIC: EcoGraf
The City of Rockingham has welcomed the announcement of a $98 million graphite processing plant proposed for the Rockingham Industry Zone.
The graphite processing facility will support the growing battery minerals industry in Western Australia, with EcoGraf signing an option to lease two lots.
The development will be delivered in two stages and will occupy 6.7 hectares, with construction expected to begin in mid-2021.
Up to 200 jobs will be created during the construction phase, with a further 75 ongoing jobs once the facility is operational.
Once stage two of the facility is complete it is anticipated that 20,000 tonnes of battery-grade graphite will be produced per annum.
"The City has advocated to key stakeholders like DevelopmentWA about the need for new job-creating industries and businesses to be established in Rockingham. This announcement is an exciting step for economic development in our community as it will create hundreds of new jobs," City of Rockingham Mayor Barry Sammels said.
"The Rockingham Industry Zone is located near important infrastructure and neighbouring industries, which makes it the ideal location for businesses looking to expand their presence in the battery minerals sector.
"The announcement regarding EcoGraf's new facility follows the recent opening of Alloy Avenue and the release of nine new lots in the Clipper Precinct, and the City looks forward to welcoming more businesses to Rockingham in future."
For more information on industrial opportunities within the City of Rockingham visit rockingham.wa.gov.au/your-city/business-and-investment/industrial-land