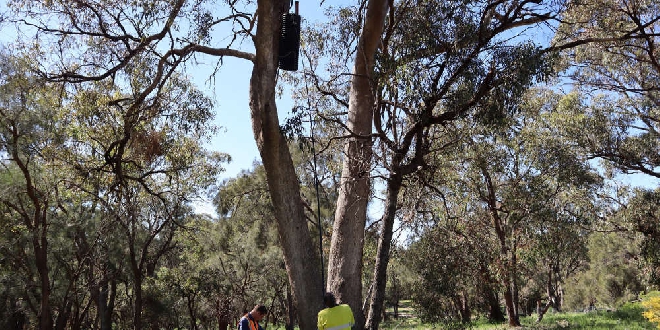 The City of Rockingham has put in place a number of environmental initiatives as works continue at the Baldivis District Sporting Complex (BDSC).
In the north western area of the BDSC site over the past 18 months, the City has been working to minimise the impact of the project on local wildlife and the surrounding bushland.
Nine cockatoo nesting tubes were installed on site to provide potential nesting habitats for three species of black cockatoo that are known to live in the area.
The artificial nesting hollows sit between six to 10 metres up a tree and will last for more than 50 years.
Early signs have returned encouraging results, with clear evidence of 'prospecting' (nesting behaviour) in a number of the tubes.
The City has also dedicated significant efforts to rehabilitating three hectares of surrounding bushland.
About 30,000 native seedlings have been planted through the area, with more to come in the years ahead.
Locally sourced seeds were used for this largescale planting, which in the long term have the potential to encourage foraging by black cockatoos.
Mayor Barry Sammels said the City was dedicated to preserving as much of the area's natural values as possible.
"The City appreciates the importance that the natural environment at the BDSC has to the community, which is why we have made considerable efforts to protect the flora and fauna on site," Mayor Sammels said.
"While it is still early in the process with respect to the nesting tubes that have been placed in various trees, the City is encouraged by the signs so far. Going forward the City will continue to closely monitor the area for further signs of black cockatoo breeding."
For more information on the BDSC project visit rockingham.wa.gov.au/bdsc