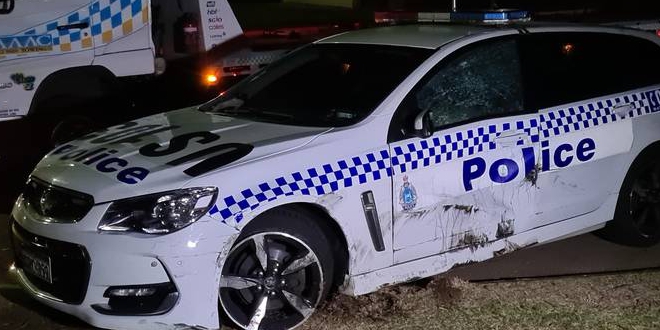 PIC: 7News
WA Police have charged a man following an evade police incident in Rockingham overnight.
Officers were patrolling the suburb following reports of three burglaries in Shoalwater and Safety Bay around 7pm and 9:30pm.
They gave chase after noticing a reported stolen Honda CR-V from the alleged burglary in Shoalwater
It will be alleged the driver evaded police and drove recklessly through Rockingham, Hillman, East Rockingham, Kwinana Beach, Calista, Wellard and Leda before officers successfully deployed a tyre deflation device.
The Honda came to a stop, however as officers stopped, the driver accelerated into the side of a police vehicle causing damage.
The Honda continued for a short distance and drove into a park off Bilya Gardens, where the driver alighted from the vehicle and was taken into custody.
The 40-year-old man has been charged with reckless driving exceeded the speed limit, two counts of no authority to drive, breach of bail, three counts of aggravated burglary, three counts of stealing, stealing a motor vehicle and driving recklessly, reckless driving to escape pursuit by police and driver of a vehicle failed to comply with a direction to stop.
The Parmelia man will appear in Rockingham Magistrates Court today.