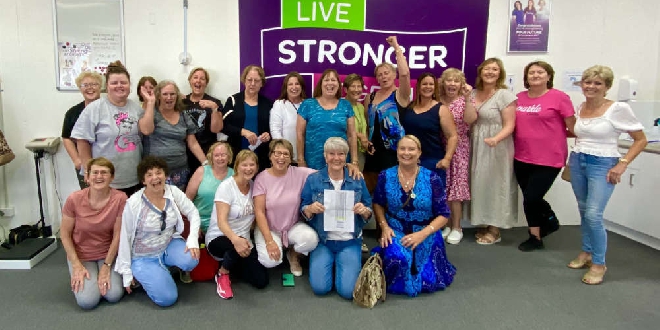 Just some of the winning ladies. PIC: Amber Johnston/7News Perth
A group of women have pocketed $1.5 million each after their syndicate scooped the entire $80 million Powerball jackpot on Thursday night.
The 55 women, who are members at Curves gym in Beldon, each put in $5 to purchase the winning ticket.
One of the winners, Lorna, told ABC Perth most of the ladies found out at a Christmas dinner.
"All the ladies at the gym had all gone out for Christmas dinner that I couldn't go because I had another function on," she said.
"[When] I came home, went to bed and thought I'll just check my phone and I had all these missed calls from a lady from the gym.
"I thought, why on earth would she be calling me? So I texted her back and I said, 'Why are you calling me? You better be ringing me to tell me we won the Powerball'.
"And she said, 'actually we have'. And I said 'stop mucking around'. And she said, 'I'm not mucking around. We're at the Christmas party at the little local restaurant. Jump up, get dressed, come join us'.
"And I said, 'You'd better not be toying with me if I get there. And this is a joke'. She said, 'I am not joking'.
"But I could hear everybody in the background screaming and [the] popping of champagne corks [so I thought] maybe there's something in it.
"It took me like 10 minutes to get there. And I walked in and everybody was crying and hugging each other. And they called Lotterywest and had it confirmed," she said.
The $80 million win is a record for WA.