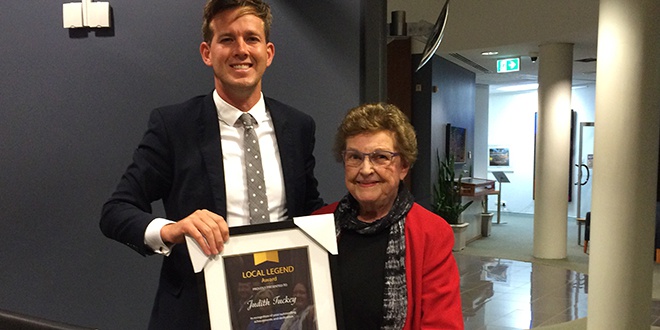 PIC: City of Mandurah
Mandurah Mayor Rhys Williams said the Tuckey family has been one of the most influential families throughout the Peel region, helping make Mandurah the beautiful city that it is today.
"For more than 60 years, Judith has dedicated her time and resources to improving the lives of others.
"In 1968, Judith and her husband Owen Tuckey started the Coolabah retirement village, to provide affordable accommodation and aged care in Mandurah. Judith is still patron of the facility today.
"Judith is a foundation member and patron of the Mandurah Country Club after helping establish the golf course. She founded the first kindergarten in Mandurah in 1961 and formed the Mandurah branch of the Arthritis Foundation in 1974. She is also a life member and former President of the Mandurah Bridge Club and a great supporter of the arts.
"As recently as 2008, Judith trained with the Australian Tax Office as a volunteer to help low income earners and people with disabilities complete their tax returns.
"On behalf of the City of Mandurah thank you for your lifelong commitment to helping others, our community is a better place because of people like you," Mr Williams said.
The Tuckey family came to the Peel Region right at the start of its development and became one of the most successful families in the area. They established fishing and timber industries in Mandurah and also played key roles in the development of education, tourism, and transport in the region.
If you know of someone you think deserves to be a local legend please contact the City of Mandurah.