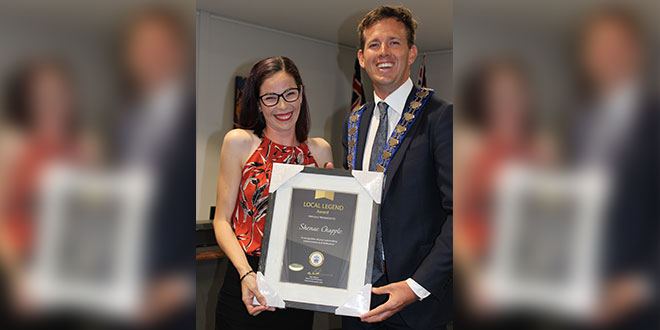 PIC: City of Mandurah
Peel ADHD Parent Support founder Shenae Chapple has been named as Mandurah's latest Local Legend.
In 2019, Shenae created a local group which connects parents of children with ADHD after recognising a gap in support services offered in the area.
Mayor Rhys Williams said Shenae's work in the field was impressive, and went a long way towards supporting the local community.
"Through her leadership in creating the Peel ADHD Parent Support group, Shenae has been able to connect many parents who may have otherwise felt alone," he said.
"The group offers workshops with ADHD training, education and resources, which is a huge lifesaver for parents who are trying to navigate some difficult and unknown territory. She is passionate about making the workshops affordable and accessible.
"She is also a great advocate for raising awareness of ADHD, reducing associated stigmas and improving education.
"We're also proud to have provided two grants to the Peel ADHD Parent Support group (one through the Restart Mandurah Community Grants program) to source experts for education sessions for parents and teachers in Mandurah."
When her eldest son was diagnosed with ADHD at six years of age, Shenae began to look for support and information on the condition, and attended a support group at a Nedlands hospital. Her youngest son was also diagnosed at age 5.
"I recognised there was nothing in the local area, and it was quite hard to travel up to the hospital all the time," she said.
"I found connecting with other people going through the same situation really helped me, and when you're going through hard days it's really great to be able to talk it through with someone. I started to wonder how many people felt the same way."
Shenae started the support group through Facebook as a way for parents to come together, share ideas, learn and support each other.
As demand grew, the group started to offer parent support sessions in September last year with advice from a parent coach and ADHD trainer, a Paediatrician and a local Occupational Therapist.
"The feedback from the training sessions has been amazing. I would never have thought I would be doing something like this, so I had to take a leap of faith," she said.
"So many doors have opened since then. It's all voluntary work from my end, but the personal reward in connecting parent makes it all worth it."
The group hosts training and support workshops on a monthly basis and has become so successful there is now a waiting list for next year.
The workshops cover the science of ADHD, what's happening to your child within different environments and parenting styles to assist with raising a child with ADHD.