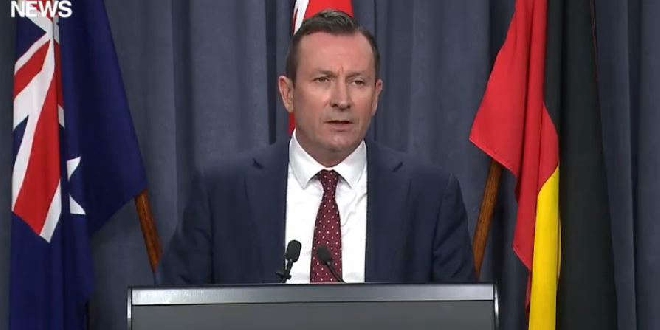 Premier Mark McGowan has announced an extension of the double dose vaccination requirements. PIC: 9News
Life is about to become "very difficult" for the unvaccinated after Premier Mark McGowan announced some of the toughest vaccination requirements in the country.
From January 31, proof of vaccination will be required at all hospitality venues and major events State-wide along with high-risk venues.
Those 16 and over will need to be doubled jabbed to visit hospitals and aged care facilities as well as restaurants, cafes, bars, pubs, clubs, taverns, night clubs and dine-in fast food.
Other venues requiring double vaccination include play centres, cinemas, museums, theatres, bottle shops, the Crown Perth complex, major stadiums, gyms, fitness centres, amusement parks, the Perth Zoo and music festivals.
Roadhouses, service stations, takeaway, community sport and school-based events (unless at one of the specific venues listed) are exempt from the proof of vaccination requirement.
"We want the public to be confident in these public settings, and that they're only mixing with other vaccinated people - people less likely to be carrying or able to pass on the virus," Premier Mark McGowan said.
"It reduces the risks posed by unvaccinated people, bringing the virus into busy, populated settings.
"Life will be very difficult for the unvaccinated from January 31. No pub, no bottle shop, no gym, no yoga class, no gigs, no dancefloors, no hospital visits.
"If you go and get vaccinated today, you can have your second dose by early February.
"But if you choose to remain unvaccinated, and at this point, it's certainly a choice. You're choosing to put yourself at risk, you're choosing to put the people around you at risk, and you're choosing to increase the burden on our health staff."
People will be required to show proof of their COVID-19 vaccination, either in a digital or paper-based form, along with approved identification if not using the ServiceWA app.
Venues, staff and patrons will have a shared responsibility when it comes to proof of vaccination, with venues required to take reasonable steps to ensure all patrons are double dose vaccinated, or exempt.