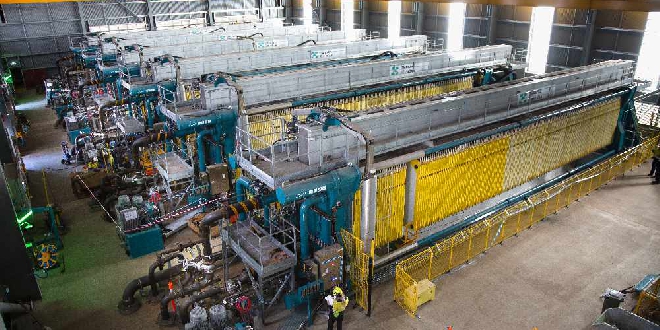 The new best-practice filtration facility will compliment Alcoa's strong environmental performance. PIC: Supplied
Significant local procurement and employment benefits have been delivered through an innovative project at Alcoa's Pinjarra Alumina Refinery.
More than 230 Western Australian businesses secured work for the construction of a new residue filtration facility, with the lead contract awarded to Henderson-based engineering and construction firm Civmec.
Civmec directly employed more than 300 people since the project commenced in 2017, with around half of those employees from the Peel region.
The new filtration facility is designed to reduce the operation's footprint and improve its environmental performance.
Currently, bauxite residue at the refinery is deposited as slurry into storage areas and then solar dried.
The new facility process around 50 per cent of the mud fraction of the residue using a filtration and stacking method, reducing the amount of land required.
Alcoa is the first major alumina producer in Australia to use the filtration and stacking technology instead of solar drying, with a similar facility already operating at its Kwinana refinery.
Alcoa of Australia Chairman and Managing Director Michael Parker said the residue filtration project was a key component of Alcoa's continued operation in Western Australia.
"By being more resourceful and significantly changing the residue management process, we are improving water recovery and demonstrating our ongoing commitment to improve the sustainability of our operations," Mr Parker said.
"The project has also been instrumental in boosting our workforce throughout the Peel region."
Civmec Manager Operations Kieran McElchar said they are thrilled to have undertaken the project.
"Together with our local suppliers and subcontractors we have successfully delivered the engineering, procurement, construction and commissioning of the project."