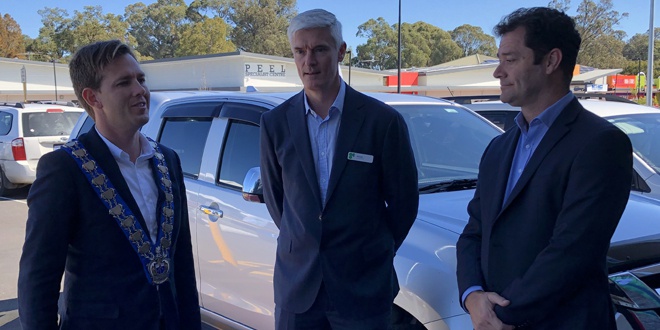 Mandurah Mayor Rhys Williams with General Manager of GenesisCare Michael Davis. PIC: West Coast Radio
Cancer patients in the Peel region will no longer have to travel out of their local community to access potentially lifesaving radiation therapy treatment.
A new $10 million GenesisCare cancer treatment centre officially opened in Mandurah today, providing state-of-the-art chemotherapy services and radiation therapy.
It has been developed to help meet the growing demand for oncology services, with the capacity to treat up to 1000 patients every year.
According to the Australian Institute of Health and Welfare, Mandurah has one of the highest rates of diagnosed cancer cases in Australia.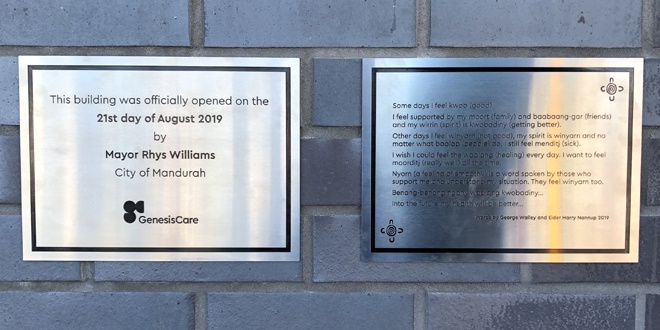 Mandurah Mayor Rhys Williams said everyone deserves to be able to access world-class cancer treatment, regardless of where they live.
"Having to travel to another town for treatment is the last thing someone with cancer should have to think about," Mayor Williams said.
"We have been waiting for a service like this here in Mandurah for such a long time and I am incredibly grateful to GenesisCare for investing in the health and well-being of our local community."
The new centre will offer the latest technology and techniques in radiation therapy and chemotherapy, as well as providing treatment for palliative patients to improve quality of life.
Radiation Oncologist and Director of Medical Services Dr Eugene Leong has been consulting in Mandurah since 2014.
He said the therapy options will make a massive difference to local patients and their families.
"For some of our patients where a cure is no longer possible, radiation therapy can play a key role in alleviating the debilitating symptoms of cancer and improving the patient's overall quality of life," Dr Leong said.
"As doctors, the greatest gift we can give to our palliative patients is quality time with their family and loved ones.
"This new centre is equipped to do just that and I am immensely proud to be part of the Mandurah team."
In addition to the cancer treatment services, the facility will have specialist rooms for sleep, cardiology and respiratory conditions.
A large portion of the costs of treatment are covered by Medicare rebates, with a number of payment options available.
The centre is located next to Peel Health Campus on the corner of Kookaburra Drive and Minilya Parkway.