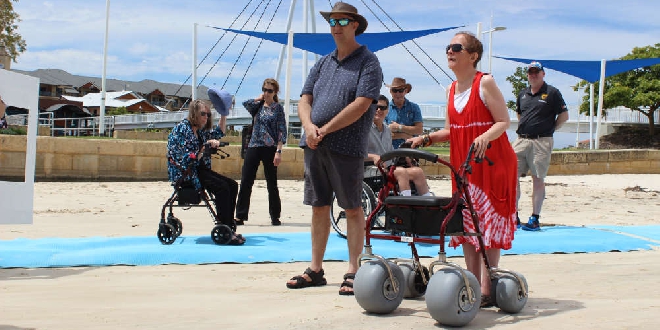 The City has purchased beach walkers and beach wheelchairs for community use, which are stored in a new shed at Keith Holmes Reserve. PIC: City of Mandurah
Mandurah has been crowned WA's Most Accessible Community out of all local government entries in the state.
The 2020/21 Most Accessible Community in WA (MACWA) Awards were announced earlier this week with the City of Mandurah taking out first and second placings in two of the three award categories.
The accolades reflect the City's commitment to ensuring services, places, spaces and community life is accessible and inclusive of everyone, delivering on a number of strategies from the City's Access and Inclusion Plan (AIP).
The AIP is aimed at making sure people with disability have the same opportunities as others in the areas of services and events, buildings and facilities, information, quality of service, feedback and complaints, public consultation and employment.
Mayor Rhys Williams encouraged the whole community to take pride in this achievement and the huge positive steps made in access and inclusion over the years.
"We accept this award with great honour in knowing our community, organisations and services are really leading the charge in creating a more inclusive, connected community for all, and we are right behind them all the way," he said.
"Mandurah is a leader in this space, and we're proud to say the way we approach and incorporate accessibility and inclusivity has just become part of who we are and what we do. It's second nature, and how wonderful it is that our residents, visitors, people with disability, carers and support workers can all enjoy our amazing city together."