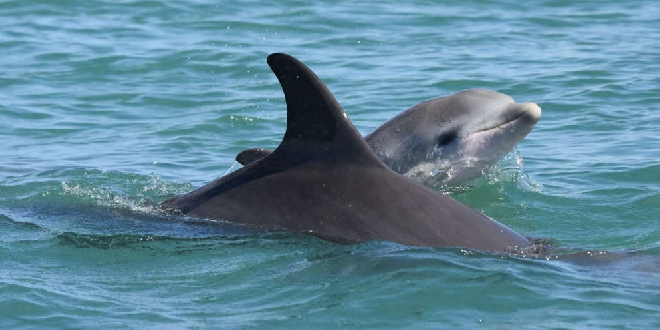 Meelan pictured with his mother Malika. PIC: Estuary Guardians Mandurah/Facebook
An entangled dolphin calf in Mandurah's waterways is believed to have passed away.
Barbara Sing from Estuary Guardians Mandurah said the dolphin, named Meelan, was spotted two weeks ago with braided fishing line, hooks and weed wrapped around its tail.
"We hunted on the land, out in boats, looking for this dolphin and he was sighted again on Wednesday last week," Ms Sing said.
"It was moving very, very slowly, obviously struggling to move, which meant it couldn't catch fish."
Ms Sing said they called Department of Biodiversity, Conservation and Attractions officers to help rescue the calf but they were not available that day and when DBCA officers searched for dolphin the following day he could not be located.
"Now we've seen the mother twice without the calf and being only 18-months-old there's no way she's not going to be with her calf if it was still alive," she said.
Meelan is the third dolphin calf to die from fishing line entanglement in the past few years in Mandurah's inland waterways.
In August 2019, a dolphin calf named Luca tragically passed away during his third rescue attempt.
He had fishing line caught around his dorsal fin.
Locals are being urged to correctly dispose of fishing line and other rubbish.
"This is a tragic reminder of the need to keep our waterways clean and clear of loose fishing line. In particular braided fishing line which cuts like a knife through dolphin skin," a post on the Estuary Guardians Mandurah Facebook page read.
A clean-up event is being held in Mandurah on October 24 in memory of Luca.
For more information click here.