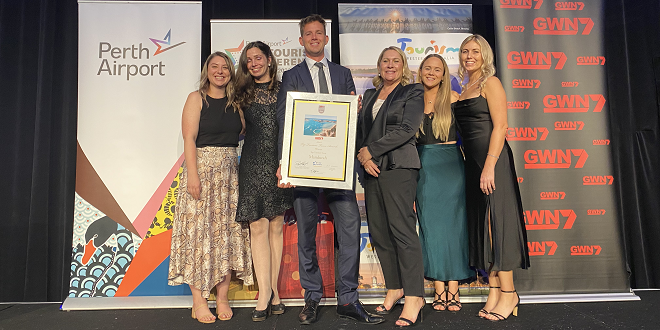 Visit Mandurah team with Mayor (from left to right): Alana Hammond, Nadine Heinen, Mayor Rhys Williams, Anita Kane, Alanna Cooper, Kellie White.
Mandurah was crowned Western Australia's Top Tourism Town at the 2022 GWN7 Top Tourism Town Awards.
The winners were announced at the 2022 Perth Airport WA Tourism Conference Dinner in Perth on June 22, 2022.
Exmouth took out the Small Tourism Town Award and Denham won the Tiny Tourism Town Award.
Mayor Rhys Williams said Mandurah has always been a significant place in WA and is delighted to see it get the recognition it deserves.
"We are so proud to see Mandurah awarded Top Tourism Town for 2022," said Mayor Williams.
"Five years ago, we reformed Visit Mandurah with a new strategic approach to tourism attraction in Mandurah and the Peel region, driven by a really strong Board and a dynamic team of staff. In that time, we've seen visitor numbers increase to a point where Mandurah has become the number one day-trip capital of WA.
"Recent fit-out and tech upgrades to our new Visitors Centre, plus the introduction of local art and e-scooter commercial offerings, have not only made this a strong and viable service, but also provides a modern, welcoming and impressive first impression for visitors to Mandurah.
"The pandemic certainly presented some challenges for tourism and I have been so proud to see our local businesses rise to the challenges and collaborate to achieve some really great things, and so this award is for them."
The GWN7 Top Tourism Town Awards recognise and reward towns in Western Australia that demonstrate a strong commitment to encouraging tourism and increasing visitation to the destination. Mandurah competed against Collie, Esperance, Geraldton, Kalgoorlie-Boulder, Karratha and Kununurra for the top spot.
Visit Mandurah General Manager, Anita Kane, said the recognition came at the perfect time.
"Over the last few years, Western Australians have explored their State and Mandurah has fast become a much-loved tourism destination," said Ms Kane.
"Despite the COVID-19 pandemic, long-running tourism operators have launched new products and news attractions have opened their doors. As such, Mandurah has become a major competitor in the tourism industry and this award acknowledges this," said Ms Kane.
With an estuary twice the size of Sydney Harbour, Mandurah is one of Australia's most spectacular playgrounds for boating, fishing and wildlife watching. The Mandurah Estuary and Peel Inlet provide endless water-based activities including riding waterbikes, floating on BBQ boats, SUP Yoga, houseboating and many more.
This is the second time Mandurah has been awarded Top Tourism Town. In 2017, Mandurah competed against Kalgoorlie-Boulder and Albany.