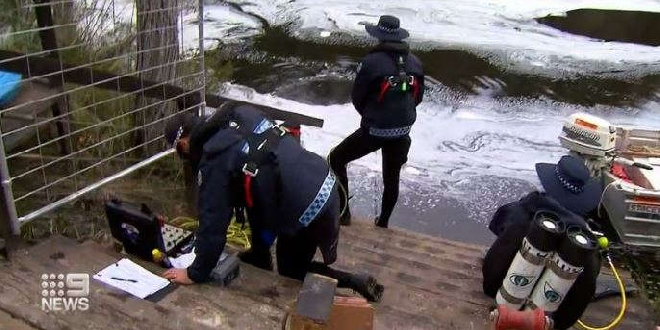 Police divers at the river near Fernhook Falls. PIC: 9News
Hopes of finding a missing eight-year-old boy alive are fading as the search near Walpole enters its fourth day.
Police divers returned to the river near Fernhook Falls on Wednesday hoping to locate the boy.
He was last seen at his family's campsite on Sunday morning.
Police have confirmed his clothes were found near the river shortly after he disappeared but there has been no sign of him since.
Inspector Glenn Spencer said the land search was called off on Tuesday afternoon.
"The search on the land was based on if the boy had self rescued," Inspector Spencer said.
"SES have searched 600 metres either side of the bank and about a kilometre downstream, and they've maximised every opportunity we've had to locate the boy on land."
Conditions in the river have proved to be challenging for police divers and visibility is extremely limited.
"The water is very high flowing and there's lots of obstructions ... very turbulent water, very tumultuous ground," Inspector Spencer said.
"Lots of rocks, lots of logs, and very low visibility of 30 centimetres, so it is hands and knees searching."
Inspector Spencer said the boy's family are in the 'grieving process' as they come to terms with the fact he may not be found alive.