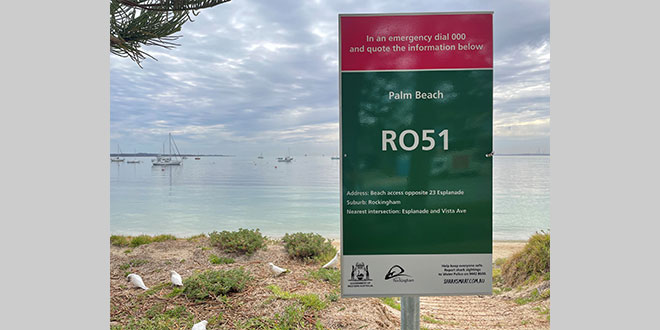 PIC: City of Rockingham/Supplied
The Rockingham coastline now features 42 new Beach Emergency Numbers signs thanks to the City of Rockingham.
The BEN coding system is named in honour of fatal shark bite victim Ben Gerring and is designed to improve emergency response times at beaches by installing signs with unique numbers at beach access points.
In an emergency, users call 000 and refer the code on their nearest sign to emergency crews so they can be found as quickly as possible.
There are now 121 signs installed at locations from East Rockingham down to Singleton and across to Garden Island.
City of Rockingham Mayor Barry Sammels said BEN signage played a vital role in assisting first responders during emergencies.
"Thanks to funding from the State Government through the Department of Primary Industries and Regional Development, the City has installed additional signs at new sites chosen for their level of risk, water use, popularity and proximity to other signs," he said.
"In an emergency situation, quoting the information on the nearest BEN sign will help emergency services accurately pinpoint the location of an emergency.
"Whenever community members visit the beach the City encourages them take note of the closest BEN sign location and information."
The location of BEN signs across the City of Rockingham and WA can be found via https://www.sharksmart.com.au/staying-safe/beach-emergency-numbers/