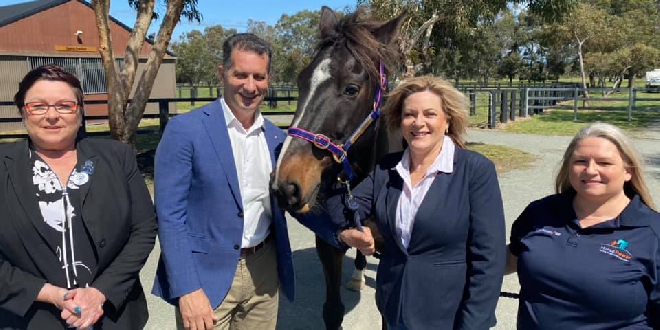 Member for Murray-Wellington Robyn Clarke MLA, animal welfare champion Lisa Baker MLA, Paul Papalia MLA and HorsePower Australia's Kelly Mansfield. PIC: Facebook
Western Australia's new racehorse welfare facility was unveiled today in North Dandalup.
The Off the Track WA (OTTWA) Estate, managed by Racing and Wagering Western Australia, will be used to retrain retired racehorses for equestrian, pleasure and therapeutic pathways.
It will support owners to transition retired animals with the OTTWA Retraining Program, as well as offer clinics and events, and provide support for emergency welfare cases.
"The official launch of the Off the Track WA Estate is a brilliant milestone in the State Government's work to elevate Western Australia's racehorse welfare standards to the highest in the country," Racing and Gaming Minister Paul Papalia said.
"It is important that we adhere to the best standards of animal welfare and care, and I thank animal welfare advocates and the racing industry for their support of this initiative."
Two of the first horses transitioning through the facility will be donated to HorsePower Australia - previously known as Riding for the Disabled WA - which provides people with disability access to therapeutic horse-related activities.
The OTTWA Estate has the capacity for up to 40 racehorses, which after an initial evaluation will be allocated to off-site official retainers who will work with the animals to transition them into life after racing.
The OTTWA Retraining Program will complement existing programs for rehoming retired racehorses and will favour horses which face additional barriers to finding appropriate pathways after retirement, such as those located in remote areas.